The village of Wolverton in Blenheim Township, Oxford County is named after its founder, Enos Wolverton (1810-1893), who built up a successful milling enterprise there on the Nith River.
Enos came to Upper Canada with his parents from Cayuga County, New York state in 1826. He married Harriet Towl in 1834 and had two daughters, Roseltha (Rose) and Melissa (Lissa), and five sons, Alfred, Daniel, Alonzo, Jasper and Newton. Enos' brother, Asa Wolverton, became a successful businessman in nearby Paris, Ontario.
The Crimean War (1854-1856) brought on an agricultural boom in Upper Canada and increased the Wolvertons' fortunes.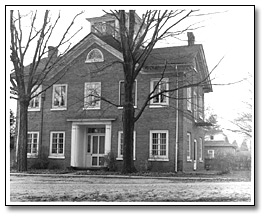 Click to see a larger image (154K)
Wolverton Hall, 1954
Lois Darroch fonds (F 4354)
Reference Code: F 4354-4-0-29
Archives of Ontario
Around 1855, Enos Wolverton built an impressive new three storey family home with a cupola which came to be known as Wolverton Hall.
The economy and the family's business fortunes reversed a few years later forcing Enos to rent out Wolverton Hall and move to Walsingham in Norfolk County where he established a lumbering business. By this time, his first wife had died followed shortly after by his son Daniel who died in a lumbering accident at Walsingham.
The photograph to the right shows Wolverton Hall as it appeared in 1954. The cupola or belvedere has since been removed.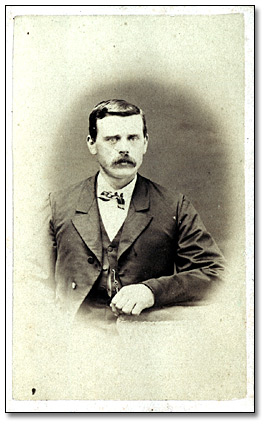 At the onset of the American Civil War in 1861, Enos's four sons (Alfred, Daniel, Alonzo, Jasper and Newton) were completing their education in Cleveland, Ohio. The four of them enlisted as teamsters in the Union Army in July 1861.
Jasper Wolverton died in an outbreak of typhoid in October 1861. The eldest brother, Alfred, died of smallpox in Washington, D.C. in April 1863.
Alonzo Wolverton (1841-1925) remained in the Army, but re-enlisted as a soldier in the 20th Battery Ohio Volunteer Artillery in January 1864. As a soldier he saw action on battlefields in Tennessee and, for a short time, was held as prisoner of war by the Confederate Army. In December, 1864 Alonzo was promoted from corporal to second lieutenant in the 9th U. S. Colored Artillery.
After discharge from the Army in 1865, Alonzo returned to Ontario and Wolverton Hall where he married and continued the family milling business. He died at Wolverton in 1925.
The document to the right is an official certificate discharging Alonzo Wolverton from the U.S. Army. It was issued on August 2, 1865.
Click to see a larger image (331K)
Alonzo Wolverton Discharge Certificate, 1865
Lois Darroch fonds (F 4354)
Reference Code F 4354-6-0-0
Archives of Ontario
The youngest Wolverton brother, Newton (1846-1932), was only 15 years old at the time of his enlistment as a teamster in the Union Army. He returned to Canada before the end of the war and in 1864 he joined the 22nd Oxford Rifles. Much of their duty was to ensure that Confederate soldiers in Canada did not attack Union targets from the north.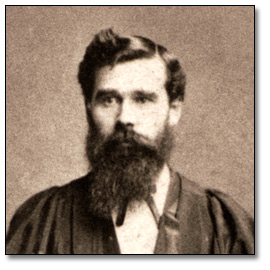 Newton Wolverton, 1877
Lois Darroch fonds (F 4354)
Reference Code: F 4354-4-0-24
Archives of Ontario
By 1866, following the end of the Civil War, Wolverton was serving in the militia guarding the border against the new threat of Fenian raids.
After graduating from the University of Toronto in 1877, he taught mathematics at Woodstock College (Baptist) until 1891, serving as principal from 1881 to 1886. He also set up the first manual training program for boys in Canada at the college and gained a reputation in the field of meteorology. Newton Wolverton continued a career in higher education in Texas, Manitoba and British Columbia. He died in Vancouver in 1932.
The photograph of Newton Wolverton, to the left is cropped from photograph of his graduating class at the University of Toronto.
Roseltha (Rose) Wolverton Goble (1835-1919), the eldest child of Enos and Harriet Wolverton married Jasper Goble in 1858. She raised a family and lived on the Goble family farm at Gobles Corners, near Woodstock.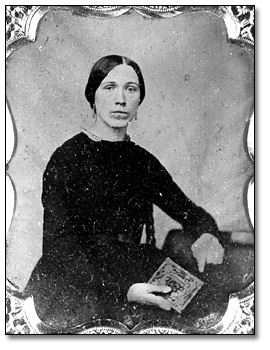 She was the chief correspondent with her brothers during the Civil War and keeper of family records. She died in Woodstock in 1919. Her sister Melissa (Lissa) (1837-1907) married Heman Fitch in 1856 and raised four children. Melissa Fitch was active in Baptist missionary work in Guatemala.
Wolverton Hall remained in the Wolverton family until 1949, when Misses Jennie and Eva Wolverton, daughters of Alonzo Wolverton, sold the house.