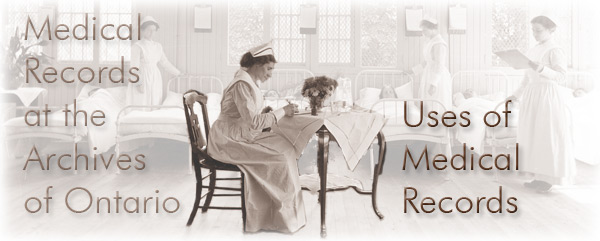 Table of Contents
Medical and health records are created primarily to provide patient care or improve the health of our society. They give a reliable account of events over a specific period of time, allowing efficient communication between health professionals in the interest of the patient or community.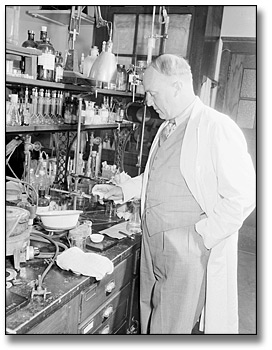 Click to see a larger image (134K)
Dr. Charles Best working in a lab, May 20, 1948
Gilbert A. Milne
Black and white negative
Reference Code: C 3-1-0-0-435 (9508-11098.1)
Archives of Ontario, I0004573
Information that has been preserved at the Archives of Ontario after its primary function has expired is used by many people other than those in the original circle of care.
Sometimes practitioners will draw on old records to understand previous history if a case is reactivated.
Other users include historians who are studying the history of medicine, as well as those looking at aspects of social history and countless other subjects.
Authors of fiction also consult archival records to understand a contemporary setting or character for their stories. Margaret Atwood's Alias Grace is a fictional account of the life of Grace Marks, an early patient of the Queen Street psychiatric hospital. The hospital index card for Grace Marks can be seen here.
Former patients have come to the Archives of Ontario to look at their own case files to understand and gain meaning from their past.
Genealogists who are researching their relatives sometimes find valuable information in physicians' papers or psychiatric hospital records.
Note: The Archives of Ontario adheres strictly to legislation and policies that govern the release of personal medical information.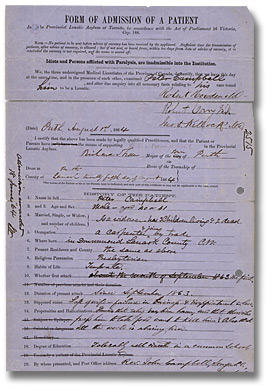 This admission form to the psychiatric hospital in Toronto in 1864 provides the age, occupation, place of birth, place of residence, and other details about the patient.
We can sympathize with the supposed "cause of the present attack" stated here as "Loss of wife, failure in business, & disappointment in love."
Institutions such as the provincial psychiatric hospitals were communities where some patients stayed for many years. Mental illness in the family was often considered shameful and not discussed, so these records may be the only source of family information for later generations.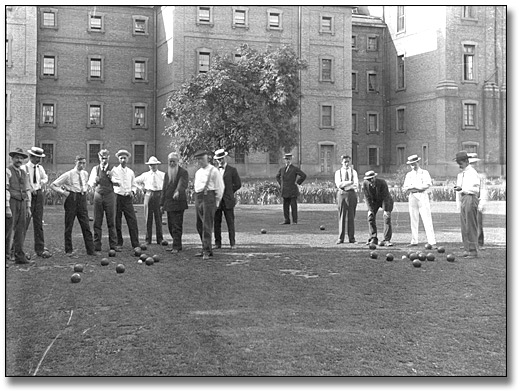 Lawn bowling at the Hospital for the Insane, Toronto, [ca. 1910]
Queen Street Mental Health Centre photographs
Reference Code: RG 10-276
Archives of Ontario, I0022033
Medical records at the Archives are sometimes used to ensure the accountability of practitioners and institutions or for legal purposes. Police officers and former inmates of government institutions have conducted research at the Archives of Ontario to investigate cases of abuse or patient rights.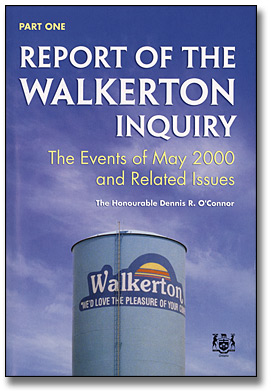 Health records have been used as evidence to support litigation or claims for compensation, and in the context of provincial inquiries.
or example many individuals and organizations in the health care field were among those who provided records to the Walkerton Inquiry, including the local Board of Health, Ministry of Health, and others. The Archives of Ontario was also those called upon to provide information. It now holds the records of the Walkerton Inquiry and makes them available for public access.

Cover of: Ontario. Commission of the Walkerton Inquiry.
Part One: Report of the Walkerton Inquiry:
the Events of May 2000 and Related Issues.
Toronto: The Commission, 2002
Archives of Ontario Library Collection
Call No.: Govt Doc A-G Misc Box 9 no 1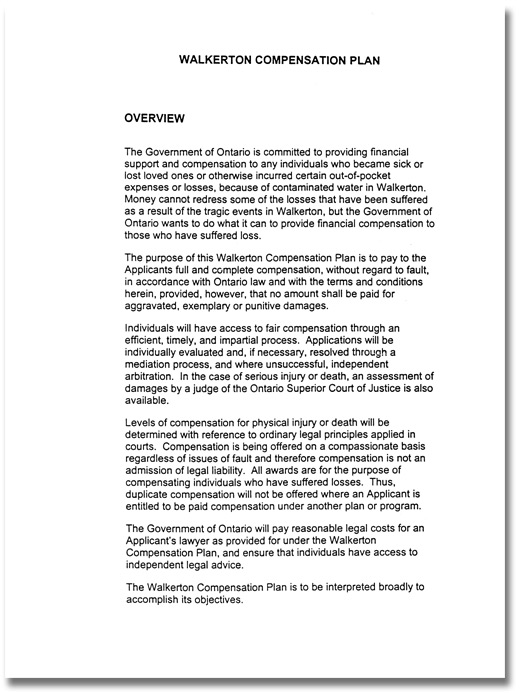 Walkerton Compensation Plan Overview, 2001
Subject files of the Walkerton Inquiry
Reference Code: RG 18-210-9, File "Injured Victims (Class Action)" in Box 66
Archives of Ontario
Medical researchers use archival records to study topics such as disease patterns and the effect of treatments over time. Those researching the relationship between genetics and disease try to establish a detailed family history documenting the mental and physical health of all blood relatives in the family tree. This methodology is being used in the research on hereditary factors and schizophrenia.
Policy makers and legislators use health information in order to make informed choices regarding plans and decisions about all aspects of our health care system. For example, statutes and regulations about health and safety issues are introduced following research and analysis of medical and other records.
One of the early industrial diseases to be designated under the Workmen's Compensation Act was silicosis, declared an industrial disease for compensation purposes in 1926. Annual chest x-ray examinations were required for all underground miners beginning in 1928.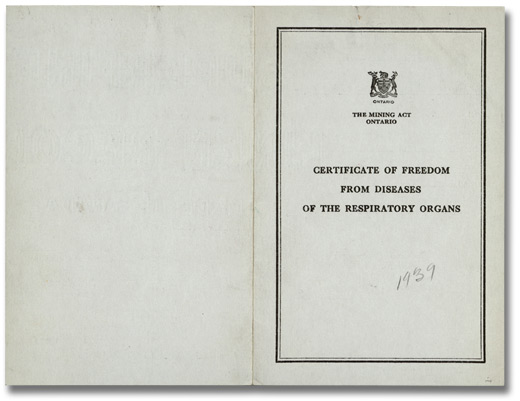 Certificate for freedom from respiratory disease, 1939
Silicosis correspondence files from the Mines Inspection Branch
Reference Code: RG 13-21-0-5
Archives of Ontario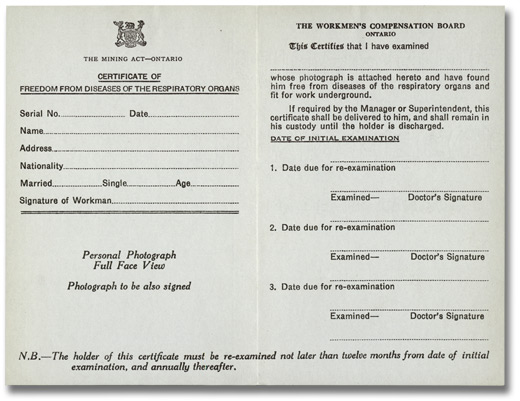 Click to see a larger image (226K)
Certificate for freedom from respiratory disease, 1939
Silicosis correspondence files from the Mines Inspection Branch
Reference Code: RG 13-21-0-5
Archives of Ontario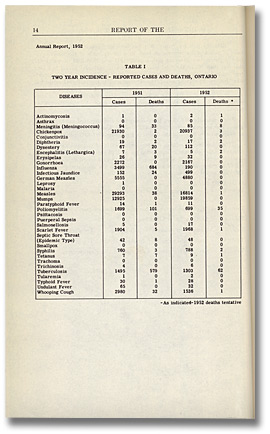 Click to see a larger image (122K)
Incidence of communicable diseases in
Ontario, 1951-1952.
From: Ontario. Dept. of Health. Twenty-Eighth
Annual Report of the Department of Health,
Ontario, Canada for the Year 1952.
Toronto: The Dept., 1952
Archives of Ontario Library Collection
Call No.: Govt Doc He.
Insurance providers use medical records to assess claims, and they establish rates based on statistics compiled from health records. Statistical health records are also used by health economists, planners, and policy analysts.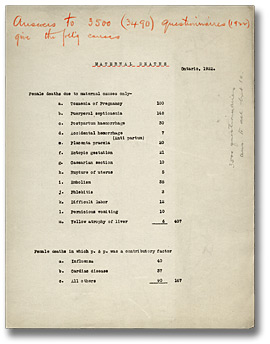 Click to see a larger image (98K)
Number of maternal deaths in Ontario, 1922
Dominion Council of Health Minutes
Reference Code: RG 10-05-0-1
Archives of Ontario
Medical records are sometimes used in teaching, so that practitioners-in-training can learn from the work of others or gain knowledge about the history of the health care professions. The Archives has a collection of historical records from Ontario pharmacies that was used by the University of Toronto's Faculty of Pharmacy. It includes pharmacy prescriptions, recipe books, medical almanacs, and other material.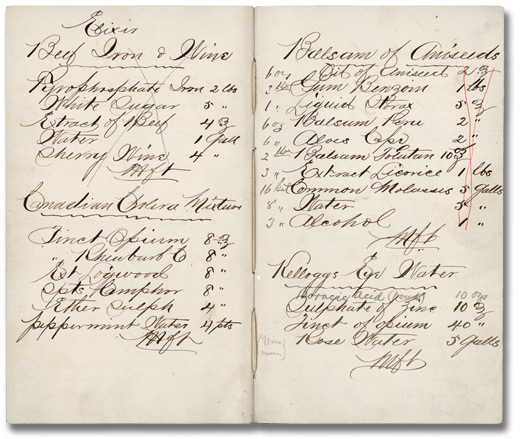 Recipe book of the Northrop & Lyman Co., Toronto wholesale
dealers in patent medicines, [ca. 1880 revisions between ca.1880-1911]
University of Toronto Faculty of Pharmacy collection
Reference Code: F 4363
Archives of Ontario
Researchers such as filmmakers and set designers have found the Archives of Ontario's photographs a valuable resource for illustrating the correct uniform or typical furnishings of a medical environment at a specific time period.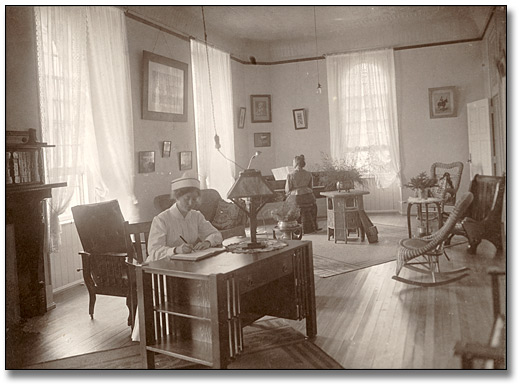 Nurse at desk, Kingston Psychiatric Hospital, [ca. 1900]
Department of Public Works photograph albums
Reference Code: RG 15-82-0-1, no. 26
Archives of Ontario, I0022032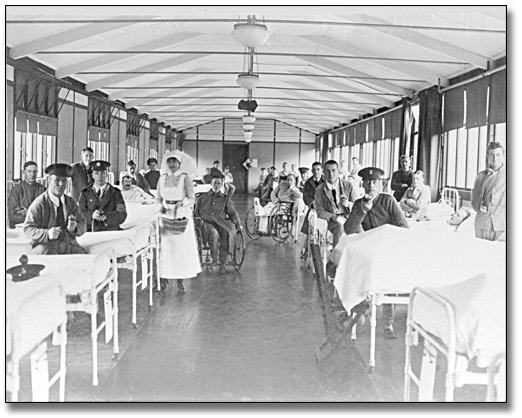 Ontario Military Hospital, England, [between 1914 and 1920]
Ontario Military Hospital photographs
Black and white print
Reference Code: F 4386-0-0-0-2
Archives of Ontario, I0007454