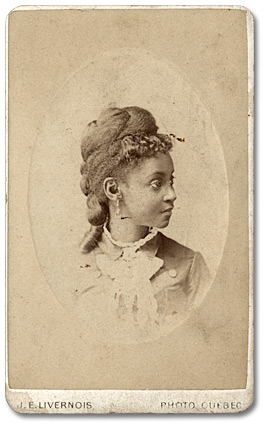 Click to see a larger image (143K)
Unidentified woman, [ca. 1875]
Alvin D. McCurdy fonds
Reference Code: F 2076-16-4-5
Archives of Ontario, I0028818
Sophia Pooley was born a slave in Fishkill, New York, the daughter of slaves Oliver and Dinah Burthen. At a young age, Sophia and her sister were taken to Niagara, where they were sold to Mohawk chieftain Joseph Brant. Brant brought the two Black girls to his home on the Mohawk reserve in Upper Canada.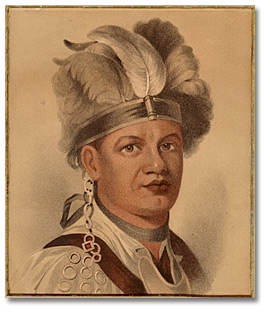 Click to see a larger image (125K)
Joseph Brant, (Thayendanegea)
Chief of the Six Nations
Reference Code: S 2076
Archives of Ontario, I0013621
Mohawk leader Joseph Brant probably owned over thirty slaves. He bought Sophia when she was seven years old and sold her when she was twelve. Sophia's memories included hunting with Brant's children …
While I lived with old Brant we caught the deer … Peggy and Mary, and Katy, Brant's daughters and I. Brant's sons, Joseph and Jacob, would wait on the shore to kill the deer when we fetched him in.…"
She attributed the scar over her eye and other injuries to Brant's third wife, a "barbarous creature" who beat her and cut her with a knife.
She recalled that Joseph Brant punished his wife, saying:
"you know I adopted her as one of the family, and now you are trying to put all the work on her."
Nonetheless:
"At twelve years old, I was sold by Brant to an Englishman in Ancaster, for one hundred dollars, – his name was Samuel Hatt, and I lived with him seven years …"
Pooley's testimony was recorded in this book. Interviewed in her nineties (in 1855), she looked back on her life, much of it spent in slavery.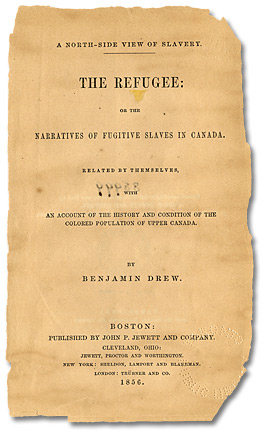 Click to see a larger image (168K)
Title page, Benjamin Drew, A North-Side view of slavery.
The Refugee: or the Narratives of the Fugitive
Slaves in Canada, Boston: John P. Jewett, 1856
After France ceded Quebec to Great Britain, slave property was protected in Lower Canada.
The Negroes and panis (Aboriginal Slaves) of both sexes shall remain, in their quality of slaves, in the possession of the French and Canadians to whom they belong: they shall be at liberty to keep them in their service in the colony or sell them...
Article 47 of the Articles of Capitulation, Montreal September 8, 1760
This map shows the boundaries of Upper and Lower Canada and the borders with the United States.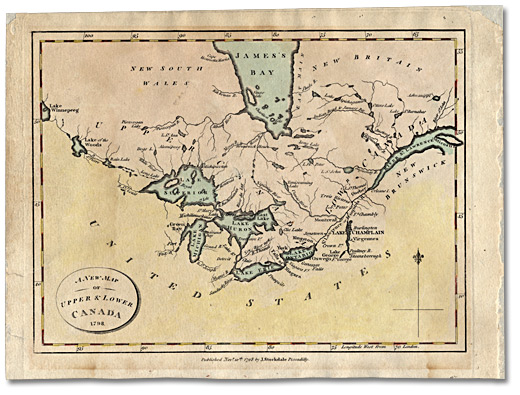 Click to see a larger image (353K)
A New Map of Upper and Lower Canada, 1798
Stockdale Piccadilly
Samuel Peter Jarvis and William Dummer Powell Collection
Reference Code: F 31-B-36-03
Archives of Ontario, I0028705
Aboriginals were also enslaved. When Charles Field's slave Sal escaped, he posted a notice in the Niagara Herald to warn others not to harbour, employ or conceal his Indian slave.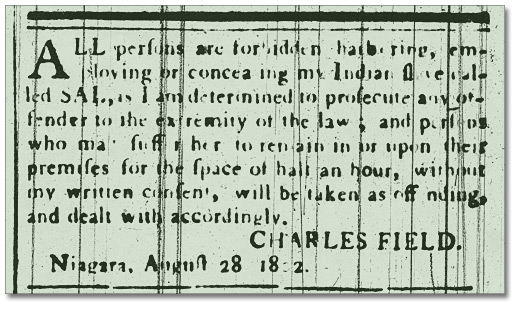 Click to see a larger image (245)
Advertisement, Niagara Herald, 28 August, 1802
Reference Code: N23
Archives of Ontario
In this Exhibit -