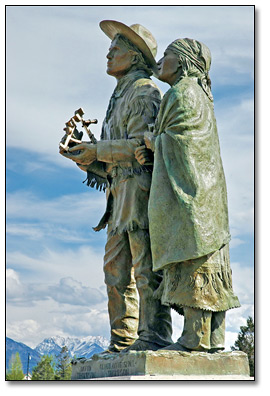 Click to see a larger image (272K)
Statue of David and Charlotte Thompson from
Invermere, British Columbia
Parks Canada, 2006
David Thompson (1770-1857) fur trader, astronomer and surveyor, mapped more of North America than anyone else. By horseback, canoe, dog sled and on foot, he travelled some 90,000 kilometres (55,000 miles), equivalent to circling the globe twice.
His great map of the West depicted one sixth of North America. Later as a merchant, farmer and writer, Thompson contributed to Canada's development as an independent nation.
Thompson's journals, letters, maps and autobiography provide detailed insights into the fur trade, the Native People he encountered, the lands he explored, and milestones in his life - marriage to Charlotte Small, the birth of 13 children and the many careers he pursued.
The year 2007 marks the 150th anniversary of Thompson's death and the 200th anniversary of his first crossing of the Rocky Mountains – a fitting occasion to commemorate North America's "Greatest Geographer."
This online exhibit explores his accomplishments, influence and legacy.
This exhibit was prepared in partnership with Parks Canada as part of a North American initiative to recognize the life and work of David Thompson. In addition to the online version of this exhibit, a 4 panel travelling exhibit was created which features many of the images included in this exhibit. There are currently 8 copies of the exhibit travelling throughout North America. For more information on the travelling exhibit please contact:
Reference, Archives of Ontario
reference@ontario.ca
416-212-2037
1-800-668-9933
Dennis Carter-Edwards, Parks Canada
Dennis.Carter-Edwards@pc.gc.ca
1-705-750-4022
Note: Copyright for images not from the collection of the Archives of Ontario is held by the lending institutions or individuals and should not be reproduced without their permission.