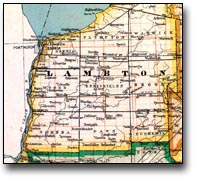 The images used for this section were scanned from a map of southern and central Ontario circa 1951. This map was chosen because it predates most of the urban growth that occurred in south-central Ontario after World War II.
Since the period of post-war growth began many of the towns and villages shown on these maps have vanished or been absorbed. If you are looking for a community that doesn't appear on more modern maps and you know the approximate location, you may be able to find it here. However, there is no index accompanying these maps so, if you are unsure of the location, you may wish to consult the electronic gazetteer produced by Natural Resources Canada.
The links in the table below will take you to a web page containing a "snapshot" map of that County or District. In every case, you can also download a readable "full size" version. Please note that the "full size" maps are 450-1600 kilobytes in size and will take much longer to download. As the dimensions of each map displayed depend on your monitor size or printer set-up, we cannot provide a scale to measure distances.
If you're looking for information on a particular area but are unsure of the name, click here to search by geographical location.
Click on the links below for more information


County Listings