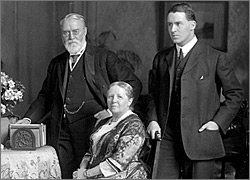 The Archives of Ontario offers a wealth of information to help you trace your family history. What you need to bring to the process is organization, patience and perseverance.
Your personal imprint on history
History is about people. You and your family, through your ancestors, have your own particular stake in history. Whether your ancestors were politicians, soldiers, settlers or servants, they lived the action and passion of their times. They form a direct, personal link between you and the past.
Genealogy is the study of your family tree. The process usually begins with a visit to an archives, where the holdings will include a wide range of primary resources. Here, by pinpointing key names and dates, you will discover the imprint your ancestors left on history and answer those basic questions of who, what, where and when. You might go further, however. Tracing your family history may also involve learning more about the times in which your family lived so that you can sketch in the background and add colour to the basic framework of names and dates - in effect, answering the questions of why and how. The scope of the project is up to you.

Tracing your ancestors is a challenging form of research that requires strategy, organization, hard work and persistence. But it can be personally satisfying and result in a valuable family legacy for generations to come. -The Archives has created numerous resources to make your job easier.
A place to start -The Archives of Ontario is a major resource in terms of access to key documents for Ontario families. Through our reference archivists in our reading room, we provide the expert advice you need to develop into a successful genealogical detective.
For more information on getting started and insight into the records we have that may be helpful to you, follow the links below. Click here for information about vital statistics records (births, marriages and deaths).