ost of the military operations of the war took place in the Niagara region of Upper Canada. The change in fortunes of the war over 3 years are best illustrated in this area. Two American invasions were turned back in the fall of 1812 (Queenston Heights; Frenchman's Creek); in the spring of 1813, a large scale American invasion led to the fall of Forts Erie and George, and a general retreat on a new position at Burlington Heights by the British.


The American advance was checked at Stoney Creek, followed by a series of small engagements and skirmishes around the American positions at Fort George.
The U.S. garrison steadily declined in numbers and health, and by December 1813 had withdrawn to their side of the border, after burning Fort George and the Village of Niagara. This reversal of fortunes was highlighted by the subsequent British capture of Fort Niagara.



Click to see a larger image (227K)
Map of the Niagara Frontier, 1869
Benson J. Lossing in
The Pictorial Field-Book of the War of 1812
Illustration
Reference Code: 971 .034 LOS, page 382
Archives of Ontario Library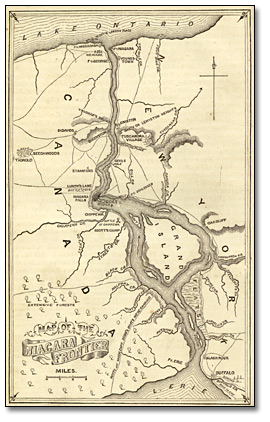 1814 saw a new invasion, with the U.S. holding both sides of the Niagara south of the Welland River and the British holding Forts George and Niagara.
The bloody and inconclusive fighting at Chippewa, Lundy's Lane and Fort Erie over the summer only came to a close when U.S. forces were withdrawn in November 1814.
The region, including Fort Niagara, remained under British control until the signing of the Treaty of Ghent in December.



October 13, Americans defeated at Queenston Heights (Niagara), Brock killed
November 29, Americans cross Niagara River at Frenchman's Creek, withdraw after counter attack by British and militia



---




April 27, Dearborn's forces raid York (Toronto), British forces retreat on Kingston
May 25-27, Dearborn captures Fort George (Niagara), British forces under General Vincent retreat to Burlington
June 6, Battle of Stoney Creek, American forces withdraw to Fort George
June 24, Battle of Beaver Dams, American detachment, surrounded by First Nation warriors, forced to surrender to Colonel Fitzgibbon following warnings by Laura Secord
December 10, General McClure burns Niagara and retreats to American side of the Niagara River
December 19, British Capture Fort Niagara, destroy American settlements along the Niagara in retaliation for Niagara



---




May 23-June 21, Treason Trials at Ancaster Upper Canada (Hamilton)
July 3, General Jacob Brown captures Fort Erie
July 25, Battle of Lundy's Lane, British under General Drummond, Americans withdraw to Fort Erie next day
August 12, British naval and army personnel capture two American war vessels off Fort Erie, the Ohio and the Sommers.
August 15, British attack Fort Erie, repulsed with heavy loss.
September 17, Americans attack British siege positions, destroy Battery
October 19, Battle of Cooks Mills, last fight in Upper Canada
November 5, American forces evacuate Niagara Peninsula



[ Return to top of page ]



---