Content Warning: This website shows and provides information about a record containing an anti-Black racist slur.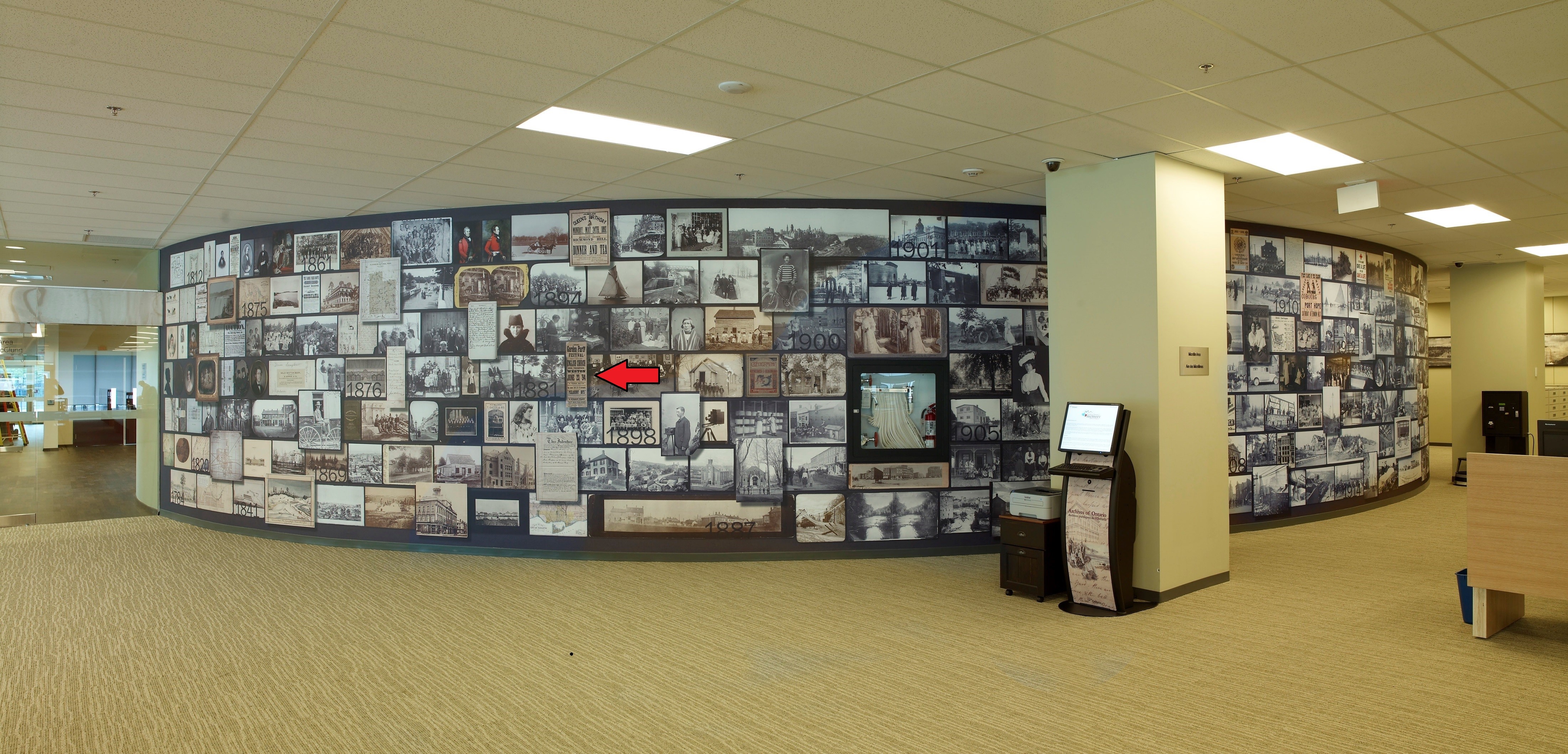 The Archives of Ontario's Reading Room montage wall (shown above) is a custom wallpaper featuring approximately 350 images from the Archives' collections. It was created and installed when the Archives' facility on York University's Keele campus opened to the public in 2009.

In 2021, an Archives of Ontario staff member noticed that a poster on the montage wall (indicated with a red arrow) contained an anti-Black racist slur with the potential to inflict harm and trigger trauma. The Archives of Ontario regrets and apologizes for having chosen to display this image in our public reading room and for failing to recognize its offensive content for such a long period of time. Following consultation with the Ontario Anti-Racism Directorate, the Archives blurred the record's content and provided a label on the montage wall linking to this webpage with further information and context.

These actions were taken to:

prevent researchers from encountering the anti-Black racist term unknowingly, ensuring that the Reading Room is a welcoming and inclusive space

recognize the difficult histories in Ontario represented in the Archives' holdings

acknowledge the Archives' accountability in overlooking the anti-Black racist slur and publicly displaying this record from 2009-2021

accommodate researchers' right to informed access
The poster was created on June 8, 1894 to advertise a garden party and strawberry festival in aid of St. John's English Church in Weston, Ontario. It features the anti-Black racist slur "pickaninny" when referring to a performance by the Choir Boys of St. Stephen's in Toronto titled "Pickaninny Boys" (likely a minstrel show). The term has historically been used in reference to a dehumanizing racial caricature of Black children. It had a harmful impact then and still does today.

A digitized copy of the poster (image I0030014) is available online through the Archives of Ontario's Visual Database. Researchers can also request to view the original record in the Reading Room by emailing reference@ontario.ca with the following title, reference code and barcode information from our Archives Descriptive Database:

Title: Garden Party and Strawberry Festival in aid of St. John's English Church-Weston
Reference Code: C 233-1-4-0-1930
Barcode: F000425

We recognize that the anti-Black racist slur on this poster may be upsetting for some. Those affected by this record may find it helpful to consult with a mental health professional in their area.

Our hope is that, in sharing this record and its context, we provide an accurate representation of the province's history, and spark scholarship and action for social justice.