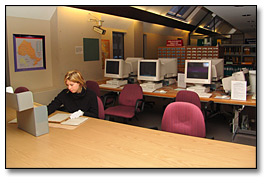 Reading Room at the Archives of Ontario
Photographed by the Archives of Ontario
Yes, ultimately you will want to visit the Archives to talk with reference staff about your research topic, use finding aids and view the records.
But before you call or visit, it's a good practice to research your topic as well as you can.
Books and other secondary sources in libraries can give important background on an event or time period, helping you to identify the key players, delineating dates and geography, and pointing to important primary sources.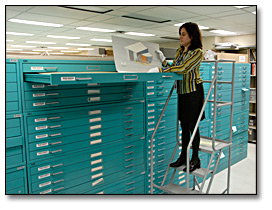 Archivist retrieving an architectural record
in the special collections stack
Photographed by the Archives of Ontario
Researchers accessing genealogy finding
aids in the Reading Room
Photographed by the Archives of Ontario
The records at the Archives will be far more useful to you if you have an understanding of their context. Your knowledge of the subject matter will also help you think of additional ways to search for information you need. A lot of archival research involves thinking of creative ways to track down information in all kinds of different records.
What are some possible sources for information?
What organization would have been involved?
Would a government department have dealt with this? Who would have had firsthand knowledge and written about it?
What kinds of records do you need?
If you are looking for records of births and deaths, you will want to consult the vital statistics records that document those events. But for other questions you may be looking for letters written by people in that time, or pictures or film of a place, or maps to show where places used to be, or court records for a case. The reference staff direct you to certain collections.
Click to see a larger image (102K)
Brothers Thomas and Charles Thompson, [ca. 1925]
Alvin D. McCurdy fonds
Black and white print
Reference Code: F 2076
Archives of Ontario, I0014678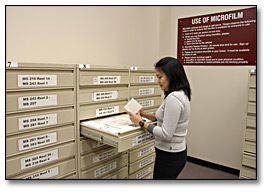 Researcher retrieving microfilm from the self-serve
microfilm draw in the Reading Room
Photographed by the Archives of Ontario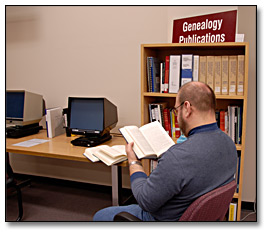 Researcher looking at a selection of publications relating
to genealogy in Ontario in the Reading Room
Photographed by the Archives of Ontario
Are you looking for a particular ancestor who settled in the Niagara Peninsula, or are you interested in early settlement programs for that area? Are you looking to get a sense of how things were in a certain place at a certain time; or are you writing the history of a town, where you would need to be more thorough?
Access to some records at the Archives of Ontario and other archival institutions can be restricted for various reasons.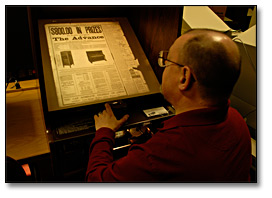 Researcher using a microfilm reader in the
Reading Room
Photographed by the Archives of Ontario
The records may be too fragile to be handled. You might be asked to use a reformatted version of the record, such as microfilm, to extend the life of the original documents.
Records can also be restricted either because the information is sensitive, such as with records related to prisons or psychiatric institutions; or because the records contain personal information about individuals. When some of our records fall under Ontario's Freedom of Information and Protection of Privacy legislation, our Reading Room staff will direct you to place a request for access through the Access and Privacy Unit. The Archives of Ontario Customer Service Guide 109 Word, PDF has more information.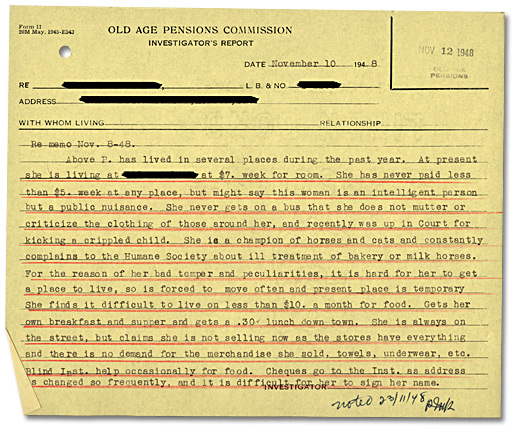 Old Age Pensions Commission Investigator's Report, November 10, 1948
Blind persons allowance case files
Reference Code: RG 29-50
Archives of Ontario
You may be given gloves to wear when handling fragile materials. You'll also be asked to leave your ink pens at the door and use only pencils for note taking. Naturally no food or drink is allowed. The more carefully you handle the items, the longer they will be available for future researchers.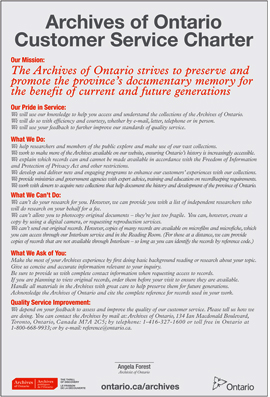 Every staff member of the Archives of Ontario works very hard to offer you an excellent level of customer service. For further information about services offered by the Archives of Ontario, consult the Customer Services Charter displayed in each one of our Reading Rooms and in our Reception area. This document describes our commitment to helping you access and understand our collections and services. It also explains some of the things we cannot do for you and outlines what you can do to help us help you.
For more information you may wish to visit our Services to the Public page.