Lincoln Alexander was a leading figure in the fight for racial equity in Canada. In provincial, federal, public and private roles, he consistently advocated for the equal treatment of black Canadians.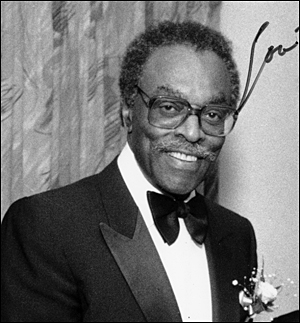 Ombudsman, 1984-1989 (detail)
Daniel G. Hill photograph albums
Reference Code: F 2130-9-1
Archives of Ontario, I0027984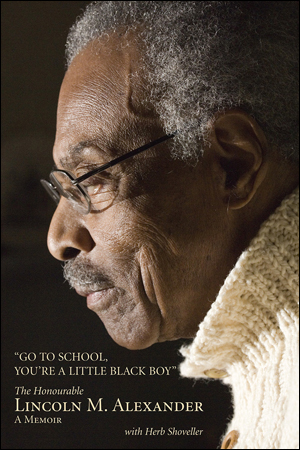 Image of Book Jacket,
courtesy of Dundurn Press
These are snapshots – moments from his life as a pioneer – taken from an interview conducted by Philip Sworden in March 1997.
"and I said, 'you go down and tell them the next time I walk into that place, as a corporal, wearing the uniform of an Air Force person, that they serve me.'"

In the Air Force Lincoln Alexander served as a wireless operator in the Royal Canadian Air Force in World War II.

While stationed in Vancouver, Alexander was refused service at a bar because of his race. When he reported the incident to a superior officer, and the officer refused to take action, Alexander quit the Air Force, leaving in 1945 with an honourable discharge.

"at that time they didn't know how to deal with race relations of this sort of thing, they just turned a blind eye to it."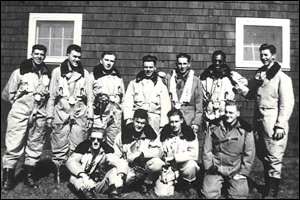 Photo courtesy, Air Force Association of Canada



"I don't know what ever made me stand up and ask him that in a class of 200 people. . . . But I will tell you one thing, that day made me a man."
As a law student in 1953, Lincoln Alexander once told the Dean that he was using inappropriate language in a lecture. This comment divided the class between those who thought Alexander was right, and those who thought the Dean could use whatever language he liked.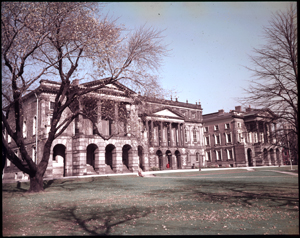 Osgoode Hall, 1952
Department of Travel and Publicity, Publicity Branch
Tourism promotion photographs
Reference Code: RG 65-35-3, 11764-X2594
Archives of Ontario, I0005529
"I remember how that happened. . . .somebody called me and said, 'Bill Davis wants to talk to you.'

"I said [to the Premier], 'do you think this is going to give you the black vote around here, the vote of the visible minority. . . ?' I will never forget his look; he was extremely angry. I shouldn't have said that."
In 1980, Premier Bill Davis asked Lincoln Alexander to become Chair of the Workers' Compensation Board. Alexander misinterpreted his request. Alexander called the role "a hell of a job."



"Mulroney ha[d] the guts to say, 'well, I will make Linc the Lieutenant Governor of Ontario, I will offer him the job.'"
In 1985, on the advice of Prime Minister Brian Mulroney, Governor General Jeanne Sauvé appointed Alexander as Lieutenant Governor of Ontario. He became the first black person to serve in a vice regal position in Canada.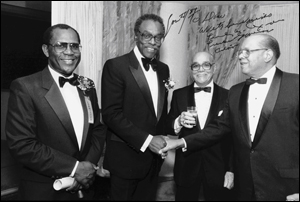 Ombudsman, 1984-1989,
Daniel G. Hill photograph albums
Reference Code: F 2130-9-1
Archives of Ontario, I0027984
"[The General] said, '. . . you have got a hell of a job because [racism] is all over the place.' And he is right. But because it is all over the place doesn't give you the right to sit back and say, 'well, we can't try to eradicate it, lessen it.' I think we have to be in the forefront, and let these people know that it is evil, it is terrible."
In 2000, Alexander was named Chair of the Canadian Race Relations Foundation, where he remained an active spokesperson for race relations and veterans' issues.
"All I try to do, is to do a job and to do it well."
This video is the Toronto version of a documentary produced by Willrich Digital Television (WDTV) in honour of Lincoln M. Alexander. It features interviews with politicians, public figures and other individuals who knew Alexander, an interview with Lincoln Alexander himself, and footage of Alexander in attendance at various events.
The video is part of the Archives of Ontario's Willrich Digital Television fonds, which also includes raw footage, along with photographs, scripts, and other records created in the course of making the documentary.


Lincoln M. Alexander: The Time Has Come to Celebrate (2002)
F 4580-0-0-18, Archives of Ontario
Please note that the audio track has been muted from 15:00-15:42 because of copyright related to music included in the original video. The muted narration can be viewed as subtitles.
This archival video does not necessarily reflect the views of the Government of Ontario today.