It is clear from the way that Thomas Burrowes approached his work that he intended to collect and communicate as much detail as possible. In emulation of artists portraying military events, he deliberately re-shaped what he saw for the sake of telling a complete story. On occasion, Burrowes even manipulated perspective in order to ensure that his paintings were packed with a maximum of information.
In most of his images of Jones Falls, for example, the vantage point is even higher than the outcrop where a guardhouses was eventually built. In fact, it would have been difficult for Burrowes to observe everything that is captured in most of these paintings. Burrowes apparently moved back and forth across the building site, collecting a maximum of visual information, then used his imagination to integrate those observations into a single explanatory image.
Thomas Burrowes's painting of the lower locks at Jones Falls, with a view of Cranberry Lake looking towards Kingston, illustrates the way he manipulated perspective in order to pack his images with information.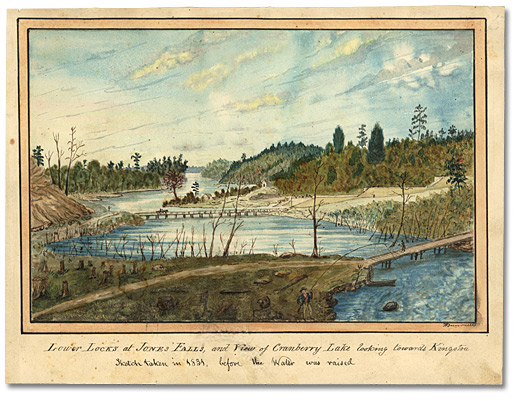 Click to see a larger image (375K)
Lower Locks at Jones Falls, and View of Cranberry Lake looking towards Kingston.
Sketch taken in 1831, before the Water was raised, 1831
Watercolour
Thomas Burrowes fonds
Reference Code: C 1-0-0-0-56
Archives of Ontario, I0002175