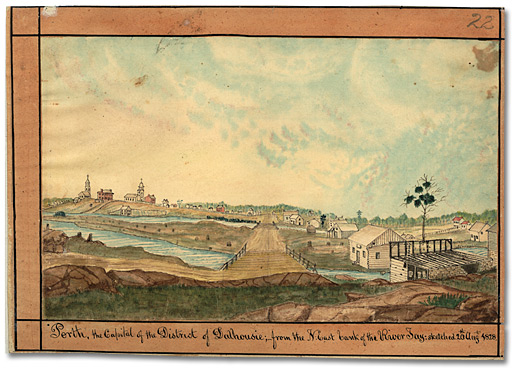 Click to see a larger image (324K)
Perth, the Capital of the District of Dalhousie; from the N-East bank of the River Tay, 1828
Watercolour
Thomas Burrowes fonds
Reference Code: C 1-0-0-0-22
Archives of Ontario, I0002141
Lieutenant-Colonel John By and his fellow planners were not the only visionaries who predicted that their canal would become a commercial success. Certainly the residents of Perth, a military settlement 13 kilometres (8 miles) from Rideau Lake, shared the dream and decided to link their future to that of the Rideau Canal.
Thomas Burrowes visited the small community in 1828, painting it when it had fewer than 900 residents. The town had been established in 1816 by disbanded members of four British regiments who received land grants in reward for their military service during the War of 1812, but Perth had struggled to survive due to its isolation from the rest of Upper Canada. A connection with the Rideau Canal seemed an opportunity to gain access to the outside world.
Construction of the Tay Canal began as a private enterprise in 1831 and was completed in 1834. Without government investment, the canal was not built or maintained as well as the Rideau. Nevertheless, in the early years of the Tay Canal, trade flourished and the town of Perth grew. Barges with farm produce were sent down to Oliver's Ferry (now Rideau Ferry) on Big Rideau Lake and exchanged for barges filled with commercial goods from Montreal, Bytown and Kingston. But as the Tay silted up, steam tug service ended and the barges had to be poled along by crew members or towed by horse and oxen along canal towpaths. By 1849, when Perth's population had grown to about 1,900, commercial traffic was abandoned, and the canal was used thereafter only to float squared timber and logs.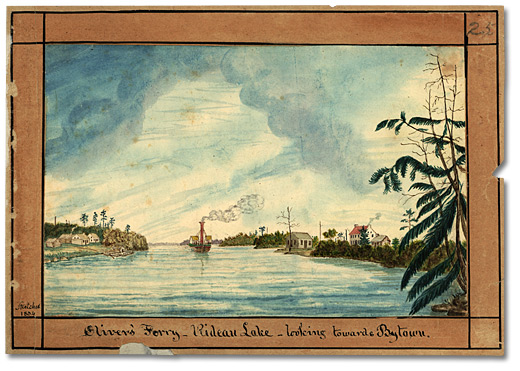 Click to see a larger image (338K)
Oliver's Ferry - Rideau Lake; looking towards Bytown, 1834
Watercolour
Thomas Burrowes fonds
Reference Code: C 1-0-0-0-25
Archives of Ontario, I0002144
In the hinterland, Smiths Falls became the busiest, most successful town on the banks of the Rideau Canal, growing from virtually nothing to a town of about 600 in 1851 and 1,137 in 1861. By 1845, it boasted a sawmill, a grist mill, a tannery, two stores, stables and a blacksmith.
Of course, the biggest towns on the waterway were the two that anchored it at both ends. Kingston, once the province's largest town, was a bustling Great Lakes port handling traffic from Montreal, York and the United States and was not reliant on the Rideau for its good fortune. Bytown, meanwhile, which had no permanent inhabitants before the start of canal construction in 1826, had grown to 7,800 in 1851 and almost 15,000 in 1861. While the Rideau Canal was at the root of its early success, its later prosperity had more to do with the wealth of the Ottawa Valley lumber barons who floated their harvest down the Ottawa River to mills in Bytown and Hull.