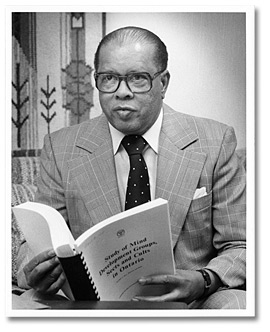 Click to see a larger image (114K)
Daniel G. Hill with cult study he authored, 1980
Daniel G. Hill fonds
Reference Code: F 2130-9-2-13
Archives of Ontario, I0027959
This online exhibit features Dr. Daniel G. Hill III, who was born in Independence, Missouri in 1923, left his country to commence graduate studies at the University of Toronto in 1950, and thereafter made Canada his home.

Daniel Hill became a prominent public figure in Canada. He was a lecturer at the University of Toronto, the first Director and later the Chair of the Ontario Human Rights Commission, a prominent writer and community activist with a sustained interest in the history of Blacks in Canada, a business person who created Canada's first human rights consulting firm, and in the last five years of his working life, he served as Ombudsman of Ontario.

With his wife Donna Bender Hill, Daniel Hill raised three children - Dan, Lawrence and Karen - who went on to become involved in the arts in Canada. He died in 2003.
In the fall of 2006, the staff members of the Archives of Ontario decided to celebrate the life and achievements of Daniel Grafton Hill III, who donated his substantial collection of documents, letters, photos, films, tape recorded interviews and artifacts to the Archives in 1991. Given that Daniel Hill was a pioneer in the field of human rights in Canada, and that he served as the first director of the Ontario Human Rights Commission, the Archives staff believed that it would be a fitting tribute to his life to present a special online exhibit at a time that coincided with the 45th anniversary of the enactment in June, 1962 of the Ontario Human Rights Code-the law that empowered the Commission.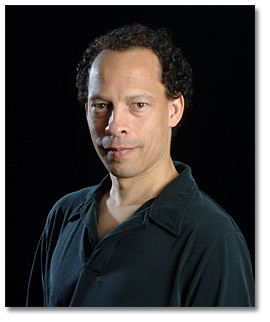 Once the decision was made to feature the life and times of Daniel Hill, the Archives invited his son, writer Lawrence Hill, to prepare the exhibit from a personal and family perspective.
Accordingly, this exhibit was researched, conceived and written by Lawrence Hill, who, aided by a team of Archives employees, spent many days combing through his father's family papers, photos and other holdings. In the process, Lawrence Hill also sought the advice and input of his mother Donna Hill and his siblings Dan Hill and Karen Hill.
Viewers of this exhibit will notice a number of terms used to describe Blacks in Canada and the United States. The language used to describe people of African heritage-in academic, government and popular settings-evolved in fascinating and dramatic ways over the course of the life of Daniel Hill, who was born in 1923 and died in 2003.
At the time of his birth in the United States, the terms "coloured" and "Negro" were commonly accepted and used, and most people of African heritage in North America did not consider them to be negative terms. Daniel Hill himself used the terms in his common speech and in his early writings. For example, in 1960, the title of his groundbreaking PhD dissertation for the University of Toronto was "Negroes in Toronto: A Sociological Study of a Minority Group".
The word "Negro" even appeared in Toronto newspaper headlines in the 1960s and 1970s. When Daniel Hill was named chair of the Ontario Human Rights Commission in 1971, a Toronto newspaper ran a story with the headline, "Negro appointed chairman of Ontario human rights board; Indian named commissioner."

Click to see a larger image (91K)
Headline from The Globe and Mail, "Daniel Hill succeeds Louis Fine, Negro appointed
chairman of human rights board; Indian named commissioner", December 24, 1971
Daniel G. Hill fonds
Reference Code: F 2130-2-1-14
Archives of Ontario
However, as people of African heritage pressed for equal treatment in North American society in the 1960s and 1970s, they sought more satisfactory ways to define themselves and to have others speak of them. In recent decades, some Canadians of African ancestry identify themselves as "Black", and others as "African-Canadians". In this exhibit, terms are used as they appeared in speeches, newspaper articles, photo captions, media interviews and books over the course of Daniel Hill's life.