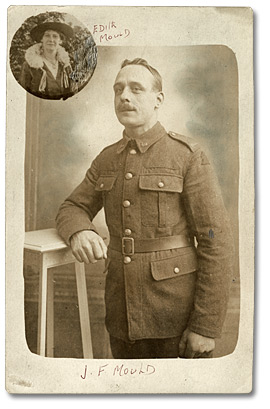 Click to see a larger image (137K)
J. F. Mould, 1915
John F. Mould fonds
Postcard
Reference Code: F 954
Archives of Ontario, I0024378
"It was on the 21st of October (1914) that I
really made up my mind to do my share towards
helping to defeat the German Army."
John Mould's Diary Vol. 1 p. 4, 1914
John F. Mould fonds
Reference Code: F 954 Archives of Ontario
Thus begins the World War I diary of Private John Mould, 19th Battalion, 2nd Canadian Expeditionary Force. In this, the Year of the Veteran, we would like to share with you some portions of John's diary, a hand-written memoir contained in eight small volumes, dating from 1914 to 1919. It tells the story of an ordinary man from St. Catharines, Ontario, driven by patriotism and the hatred of oppression.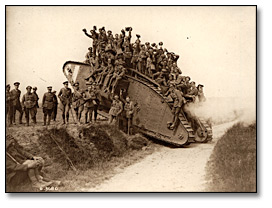 Click to see a larger image (88K)
Canadians are seen returning on a tank,
5th Canadian Mounted Regiment
Unknown photographer
Canadian Expeditionary Force Albums
Black and white print
Reference Code: C 224-0-0-10-33
Archives of Ontario, I0004843
John participated in some of the worst battles of the War, and is particularly moving in his description of the Battle of the Somme in 1916. He survived this and worse, and in time returned to Canada.
In the final volume of his diary, John recounts his return voyage in 1936 to the battlefields of France and Belgium with some 11,000 other "pilgrims." Here he witnessed the unveiling of the Canadian National Vimy Memorial, Walter Allward's imposing tribute to Canadian soldiers.
Please join us in reading some of John Mould's diary. In his own words, he will help us to remember "the war to end all wars".