As of September 29, 2022 the Archives of Ontario has launched the Archives and Information Management System (AIMS). The AIMS integrates the Archives Descriptive Database, the BIBLiON Library Catalogue, the Government of Ontario Art Collection (GOAC) and the Visual Database into one online tool. As a result, you may encounter broken links to the old databases on our website. We are working at updating these links to the AIMS. If you encounter a broken link and need assistance, please contact us.
Explore our virtual exhibits, which feature various groups of records, cover a wide range of subjects, and highlight many different aspects of Ontario's diverse past.
We aim to make our online content accessible for all. If you require assistance accessing our website, and online tools and resources, please contact us.
Exhibit Spotlight -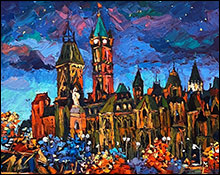 The Ontario Society of Artists and the Government of Ontario Art Collection online exhibit

Founded in 1872, the Ontario Society of Artists (OSA) is Canada's oldest continuously operating professional art society. This revised exhibit explores the OSA's fascinating history tied to art education, provincial galleries, and the Government of Ontario Art Collection (GOAC). Featuring historic and contemporary donations by OSA artists to the GOAC, including 28 new works received in 2020, it offers a glimpse of Ontario through the eyes of its talented artists.
A note on exhibit categories: some exhibits are listed in multiple categories. In some cases, the entire exhibit is related to the category; in others, only part(s) of the exhibit is/are connected to the category.
Arts & Architecture
Black Canadian Histories
Collections Spotlight
Indigenous Traditions & Histories
Land, Environment, & Infrastructure
Life in the Past
People & Communities
Wartime Stories
Women in Archives