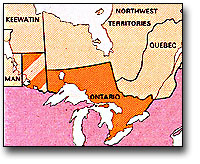 Scroll down the page to see the evolution of Ontario's boundaries between 1774 and 1912, or click on a year below to go directly to a particular time period.
The Quebec Act (1774) included what is now southern and central Ontario south of the Arctic watershed into the Province of Quebec. What is now Northern Ontario north of the Arctic watershed was part of Rupert's Land, a territory granted by the British Crown to the Hudson Bay Company.
The American Revolution and the arrival of the Loyalists led to the Constitutional Act (1791), which separated the Province of Quebec into Upper Canada (current southern Ontario) and Lower Canada (current southern Quebec).
Following aborted rebellions in both Upper and Lower Canada (1837-1838), the Act of Union (1840) merged the two colonies to form the Province of Canada. Upper and Lower Canada became Canada West and Canada East.
The British North America Act (1867) merged the Province of Canada, New Brunswick and Nova Scotia to form the Dominion of Canada. The provinces of Ontario and Quebec replaced the former Province of Canada.
After the purchase of Rupert's Land by Canada in 1868 Ontario's boundaries moved west and north to a "provisional" boundary in 1874. Northern Ontario and Quebec are part of the North-West Territories; some maps and books from the time refer to the North-East Territories instead, although that term is not used officially.
Ontario and Manitoba claimed the Kenora area during the 1870s and 1880s, and both governments established parallel administrations.
The federal government awarded the Kenora area to Ontario in 1889. At the same time, the Albany River became the province's northern boundary.
Ontario's boundaries were pushed north to Hudson Bay in 1912, completing the province's expansion to its current borders.
In -A Guide to Boundaries, Names and Regional Governments -