The Langton family could trace their ancestry at least as far back as the thirteenth century when, in 1215, Bishop Stephen Langton was among those who witnessed King John's signing of the Magna Carta.
Thomas Langton (1770-1838), was born into an aristocratic Lancashire family, the Langtons of Broughton Tower and Kirkham. The youngest of five sons, he became a gentleman-merchant and later, a landowner.
He was father of William, Anne and John Langton. He emigrated to Canada in 1837, with his wife, his daughter and an unmarried sister-in-law, to join his younger son, John, at the latter's farm property on Sturgeon Lake, near Fenelon Falls.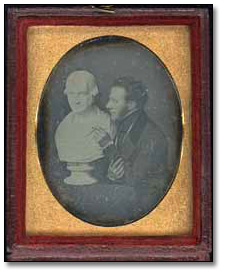 William Langton with bust of his father,
Thomas Langton, [ca. 1840]
Langton family papers
Daguerreotype
Reference Code: F 1077-11-0-7
Archives of Ontario, I0008505
Ellen Langton (1766-1846), wife of Thomas, mother of William, Anne and John; daughter of Reverend William Currer, Rector of St. James the Apostle parish church, Clapham, in Yorkshire. The Currers were a noted Yorkshire family with connections to the literary Brontës. She emigrated to Canada in 1837.
William Langton (1803-1881), eldest son of Thomas and Ellen Langton. He became a highly successful banker in Manchester, England and a noted social reformer and connoisseur of the arts. He married Margaret Hornby, a wealthy heiress from a noted Lancashire family in 1831. They had nine children of whom eight survived to adulthood. William, Margaret and family were the chief recipients of the correspondence from the "Canadian" Langtons. William, in turn, was the Canadian Langtons' chief correspondent.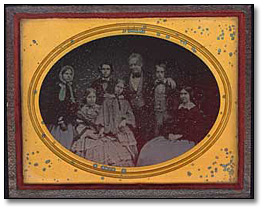 Langton, William and family, [ca. 1855]
Langton family papers
Ambrotype
Reference Code: F 1077-11-0-6
Archives of Ontario, I0008506
Anne Langton (1804-1893), only daughter and second child of Thomas and Ellen Langton. An accomplished gentlewoman artist in the genres of miniature portrait painting and landscape art, she became a pioneer settler in 1837 at her younger brother John's farm on Sturgeon Lake, near Fenelon Falls when she emigrated with her parents and maiden aunt.
John Langton (1808-1894), third son and youngest child of Thomas and Ellen Langton. (A second son, Thomas, died in 1812 at the age of six). A graduate of Cambridge University, he emigrated to Canada and settled on Sturgeon Lake, near Fenelon Falls in 1833. He married Lydia (née Dunsford) in 1845. They had eight children of whom seven survived to adulthood.
Alice Currer (1770-1846), unmarried sister of Ellen Langton. She emigrated to Canada, along with Ellen, Thomas and Anne in 1837.
Margaret Langton (née Hornby), wife of William Langton. The surviving children of William & Margaret Langton were: Alice, Ellen Josephine, Katharine Elizabeth, Anna Margaret, William Heywood, Henry Currer, Marian Cicely, Frances Amelia.
The surviving children of of John and Lydia Langton were: Ellen, Thomas, Henry Stephen (Harry), (Mary) Agnes, William Alexander, John (Jack), Hugh Hornby.
Ellen Josephine Philips (née Langton) edited her aunt Anne's letters and journals and had them printed privately in 1904 (Edinburgh) as Langton Records. Journals and Letters from Canada, 1837-1847.
Hugh Hornby Langton edited his aunt's letters and journals under the title A Gentlewoman in Upper Canada. The Journals of Anne Langton in 1950 (Toronto).
The Currers were a Yorkshire family with connections to the literary Brontës. When the three Brontë sisters adopted male pen-names to publish their earliest novels, Charlotte Brontë chose to call herself "Currer Bell." A contemporary Currer descendant, Noel Currer-Briggs, donated a number of Langton items - daguerreotype, ambrotype and drawings - to the Archives of Ontario in 1979.
The Dunsford family arrived in Canada from England in the fall of 1838. Reverend James Hartley Dunsford was head of the family. He and his wife Mary had a large double-storey log house, "The Beehive", built for themselves and their ten children (five sons and five daughters) on the lower end of Sturgeon Lake, at Bobcaygeon. This home was even larger than Blythe (as, indeed, it needed to be for so large a family). In October of 1838, Anne Langton, anticipating the Dunsfords' arrival, viewed them as potential social rivals. The prospect elicited a rare sharp dart from her pen: "Hitherto I fancy we have more English elegancies about us than most of our neighbours, but the Dunsfords, I expect, will quite eclipse us, for they, it is said, are bringing a carriage out with them. I hope they do not forget to bring a good road too" (GUC, 71-72). Little did she realize that her brother John would one day marry Lydia, the second of the Dunsford daughters.