In 2017, the Archives of Ontario conducted a public Customer Service survey to evaluate overall customer satisfaction and to identify key factors currently influencing customer experience at the Archives.
Over 500 people graciously completed the survey. Thank you to everyone for your valued feedback!
Click on the tabs below for more information about the survey results and what we have done to enhance customer experience.

The Results
Overall, customer satisfaction ranked very high with 85% of respondents satisfied with the service provided by the Archives of Ontario. Your input also identified the following three areas as opportunities for improvement in our services:
Customer Experience and Access

21% of respondents find it difficult to access records at the Archives

Increased Digital Content Online

45% of respondents aim to access records online
25% of respondents cited limited "availability of records" as a barrier to access

Website Experience

80% of respondents rely on the website and online databases when searching for records
22% of respondents indicated that the website is not easy to navigate
What We Heard
Over the last year, the Archives developed a three-year Customer Experience Strategy to address these areas. The goals of the strategy are to enhance:
Customer Experience and Access

Continually improve user experience and access to collections

Increased Digital Content Online

Increase availability of popular archival records online
Expand digitization of popular collections through partnerships
Increase use of social media and YouTube

Website Experience

Refresh the look and feel of our public website integrating with other channels
Continue to improve our website for French language customers and those requiring accessible formats
Improve access to the Archives of Ontario web pages by enhancing search engine optimization
What We've Done
On a yearly basis, we aimed at sharing our progress on how we are reaching our goals to enhance your experience with and access to the Archives of Ontario!

Since developing our Customer Experience Strategy:
2017-2018
Successfully completed another annual release of marriage and death records online through Ancestry.ca

Free access to the records are available in our Reading Room and through Ontario public libraries

Provided access to over 50 previously inaccessible sound and moving image records through our YouTube channel
Launched a review of our services to determine ways of improving customer acces
2018-2019
Released five new Archives of Ontario data sets on the Government of Ontario Open Data Catalogue. They include:

Archives Descriptive Catalogue

We are the first archives in Canada to make its archival catalogue available as an open data set!

Government of Ontario art collection
Archives of Ontario photographs and maps
Immigration Records (1865-1883)
Second Heir and Devisee Case Commission Files

Combined, these data sets have been downloaded over 1,200 times. An open data webpage on the Archives' website was also created and provides easy access to our data sets.

Uploaded another 25 new videos from our collections to the Archives of Ontario YouTube channel.
Digitized and posted the Ontario Budgets, dating back to 1893 on the Digitized Government Publications page of our website.
Released the 1929 to 1932 and 1937 Ontario marriage registration records and the 1939 to 1942 and 1947 Ontario death registration records on Ancestry.ca website.

Free access to the records is available in our Reading Room and through Ontario public libraries

We also acquired and processed the following collections now available through the Archives' Reading Room:
Fonds consists of the professional and personal records of press photographer, John M. McNeill.
F 4464-11 Ontario Dairy Princess program records

Series consists of records created by members of the Ontario Milk Marketing Board responsible for the daily operation of the Ontario Dairy Princess program.

Fonds documents the activities of the Ontario School Board Reform Network and its impact on the education system in Ontario.

Fonds consists of records documenting the political and legislative career of Robert W. Runciman, Progressive Conservative member of the Legislative Assembly for Leeds-Grenville from 1981 to 2010.

Fonds includes negatives documenting people, architecture, animals, and other subjects in and around Ridgetown, Ontario by amateur photographer J.C. Smith.
What's New! 2020-2021 (Update!)
We first want to thank you for your continued support and interest in the Archives as we navigate the current COVID-19 situation. In order to keep our clients and staff safe we have temporarily closed the doors to our in-person services and transitioned to providing more access and services online.
Over the last year, we have worked as an organization to find creative ways to facilitate access to more digital records and increase our online presence.
Some of the projects we focussed on include:
Digital Access to Records:
Increased Online Presence:

Online Education Sessions
To support educators use of archival materials while still ensuring participants' health and safety during this time of physical distancing, we launched free virtual professional development (PD) sessions for educators of all kinds and at all levels! ​
For more information or to book a session send an email to refrence@ontario.ca.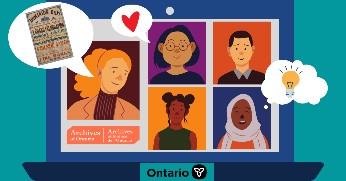 Shareable image of laptop
showing online
education session

Online Webinars
In partnership Ontario Ancestors, we developed a four-part webinar series about how to research some of our most popular family history records, including pre-1869 vital statistics and early Crown land records.
Click here to access the recordings on the Ontario Ancestor's website.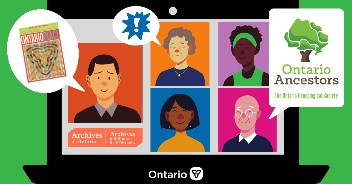 Shareable image of laptop
showing online
webinar with the
Ontario Ancestors

Research Orientations and Virtual Tours
We now offer free virtual orientation sessions and tours that help our researchers learn how to prepare for researching at the Archives and get a behind the scenes glimpse into our holdings!

For more information, click here.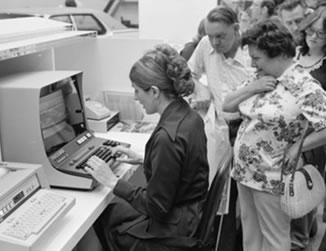 Image of demonstration
of information technology.
[197-]. Julien LeBourdais
fonds. I0012477

Savvy Social Media Content
Without in-person access to original records in our collections, we revised our planned monthly themes for our social media channels to feature already-digitized content.
We also launched a new Instagram account to engage new audiences and share diverse content. You can follow us on Instagram @archivesontario

Shareable image of a 19th
century photograph of a
woman on the telephone
with speech bubble
featuring social
media icons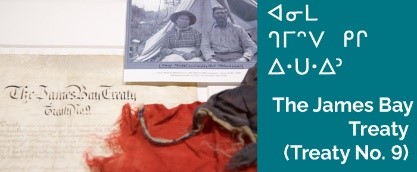 Image of the James Bay Treaty
(Treaty No 9)
online exhibit

Virtual Reference Interviews
To ensure the safety of our researchers and staff, we have been looking at ways to provide comprehensive reference services for our in-person researchers from a safe distance.
In preparation for when we re-open, researchers will be able to book one-on-one virtual interviews with Reference staff to help prepare them for visiting the Archives.
Stay tuned for more information!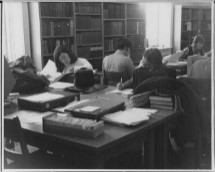 Image of Archives of Ontario
Reading Room.
[between 1951 and 1972].
Archives of Ontario.
I0009053

Website Enhancements
We are continuing to review and enhance website content for relevance and ease of navigation and discovery.
Some of the pages we have refreshed include: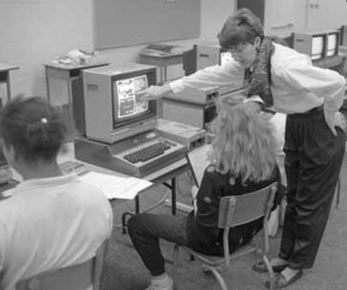 Image of teacher instructing
student at computer. 1988.
Julien LeBourdais fonds.
I0020974
What's Next? (Update!)
Although the three-year timeframe of the Customer Experience Strategy is up, we remain dedicated to enhancing our service delivery and online access to our holdings.
In response to the Ministry of Government and Consumer Services' (MGCS) priority goals of Service Delivery Excellence and Digital Transformation and our strategic priority of Building Digital Capacity, the Archives is developing and implementing a digital strategy with the primary goal of providing increased online access to archival collections. This goal will be achieved by focusing on three strategic outcomes:
Enabling Digital: Ensuring we have the technology required to help us achieve our business model goals
Stewarding Digital: Establishing a process and the capacity to deal with new forms of content, as well as optimizing our services by digitizing portions of our holdings.
Discovering Digital: Facilitating access to our holdings, modernizing service delivery to become more user-focused, and enhancing the value of our holdings through active promotion and engagement.
We are happy to announce as one of our biggest digital enablers, we will be implementing a new integrated collections management system, to replace our existing systems that provide access to our collections, including the Archives Descriptive Database and our BIBLiON Library catalogue.
The new system will be:
client-centric with user friendly features to facilitate easier access to archival records and collections and enable more records to be made available online.
created based on feedback from our users who frequently access the Archives' collections.
an enhanced integrated solution to also support the Government's mandate of delivering simpler, faster and better services.
Stay tuned for more information about the new system!
Continued Feedback (Update!)
User feedback is the driving force for the development of our digital strategy and the new integrated collections management system. Please stay tuned for more updates and future opportunities to have your say!
In the meantime, if you have any comments or ideas, send e-mail to reference@ontario.ca .
Thank you!