Online learning is a fantastic way to explore the Archives of Ontario remotely, and while still maintaining the health and safety of your family and community during this time of physical distancing.
The Archives of Ontario now offers free virtual professional development (PD) sessions throughout the year to educators of all kinds and at all levels! Keep reading below to learn more.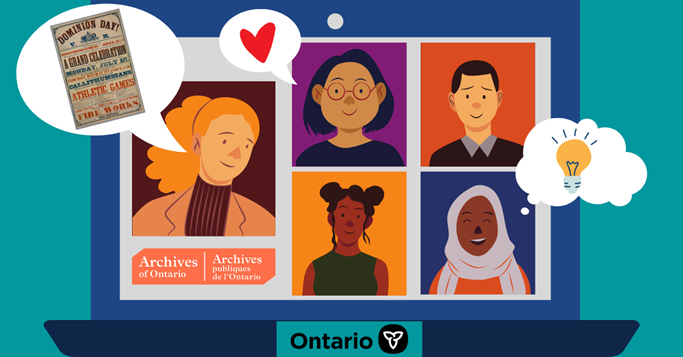 All Archives of Ontario workshops are offered free of charge!
Workshops for educators are directly linked to the Ontario curriculum.
Your session can include a behind-the-scenes tour of the Archives facility.
Session length is flexible, and can run from 30 minutes up to 2 hours.
Please click here to submit an inquiry for more information or to book a session.
Session summary:
Using examples from the Archives of Ontario's collections, this workshop will explore historical inquiry through teaching with primary sources and model the use of archival materials in the classroom with activities and group discussion.
All participants will come away with knowledge of the following:
The role of archives in preserving the past, and online resources for educators available from the Archives of Ontario.
The value of primary sources in building students' inquiry and analysis skills.
Strategies and examples for incorporating archival materials into the classroom.
While our professional development sessions focus on building skills and mechanics of teaching with primary sources and inquiry-based thinking, they can be customized for Primary, Junior, Intermediate, Senior, and/or specific teachables as needed.
Curriculum connections:
Materials featured in our PD workshops, from the Archives of Ontario's archival, library, and art collections, have strong connections to the Ontario history curriculum — but educators teaching any subject are welcome and encouraged to book a session! Please contact our team to discuss how we can connect our collections to your area of teaching practice.
Please note:
Virtual professional development sessions are offered wherever your team meets; our educators will join your class, meeting, or gathering on whatever platform you already use.
If necessary, the Archives of Ontario can set up a virtual session using Microsoft Teams.
Due to time and resource limitations, we are currently only able to offer these experiences for groups (not individuals).
Minimum number of attendees is five, and maximum number of attendees is 100.
Reservations must be made at least 1 week (7 days) before your preferred date and is subject to availability.
Please click here to submit an inquiry for more information or to book a session.