Explore our virtual exhibits, which feature various groups of records, cover a wide range of subjects, and highlight many different aspects of Ontario's diverse past.
We aim to make our online content accessible for all. If you require assistance accessing our website, and online tools and resources, please contact us.
Exhibit Spotlight -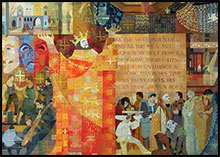 ON Stage: Spotlighting the History of Theatre in Ontario

This exhibit traces the development of Ontario's live theatre scene from its early stages of prominence in the 19th century to its important role in the province's cultural landscape today. Showcasing the Archives of Ontario's collections documenting the dramatic arts, it invites audiences to experience the past and present allure of the stage.
A note on exhibit categories: some exhibits are listed in multiple categories. In some cases, the entire exhibit is related to the category; in others, only part(s) of the exhibit is/are connected to the category.
Arts & Architecture
Black Canadian Histories
Collections Spotlight
Indigenous Traditions & Histories
Land, Environment, & Infrastructure
Life in the Past
People & Communities
Wartime Stories
Women in Archives