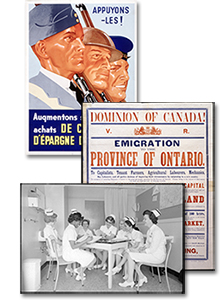 Interested in using primary sources in your classroom but don't know where to start? The Archives of Ontario provides a range of History and Social Studies resource and lesson kits for grades 3 to 12, as well as online exhibits that feature primary source material from our extensive collections.
All our resource and lesson kits align with the Social Studies, History, and Canadian and World Studies curricula and emphasize the skills of historical inquiry, interpretation, and analysis. Kits can be downloaded as a Microsoft Word© file or a PDF for easy printing.
Have a suggestion about future resource kits? Contact us at Reference@ontario.ca to let us know!