Toronto Emigration Office Records - or " Hawke Papers"


(now series RG 11-1 to series RG 11-7)
Thanks to financial support from the Friends of the Archives of Ontario, the Archives has acquired a set of highly significant Canadian immigration records from Columbia University. While at Columbia, they were known as the Toronto Emigration Office Records, or more informally as the Hawke Papers. These records, which date from 1831-1892, were mainly compiled by Anthony Bowden Hawke and his successor J. A. Donaldson. Hawke was the first specialized emigrant agent assigned to assist immigrants in settling Upper Canada (which became Canada West, and then Ontario). He served as Chief Emigrant Agent for a number of years.
This important collection is now part of the Archives' larger collection of Provincial Immigration Records. It includes official correspondence and records which document assistance provided to immigrants in the form of transportation, food, and shelter. Of particular note are records of assistance provided to widows, orphans, and others who fled to Canada during the difficult Irish famine time period. Earliest in date are financial records containing accounts of A.B. Hawke, Peter Robinson, Alexander McDonell and others.
While the records originate mainly from the Toronto and Kingston emigrant offices, records of arrivals and destinations pertaining to other locations are also included. Some registers document the arrival of young children, including "Barnardo's Boys", who were among the more than 100,000 British Home Children sent to Canada between 1870 and 1940.
These papers will be of immense value to genealogists and scholars studying immigration patterns and conditions of life in nineteenth-century Ontario.
Due to the fragility of the original documents, these records have been microfilmed by the Archives of Ontario and are available in the Archives Reading Room and through Microfilm interloan.
British Home Children
Thousands of impoverished British children were sent by figures such as Dr. Barnardo, Maria Susan Rye, and Annie MacPherson to be placed in rural Canadian homes.
Although some thrived, others were abused and exploited. While humanitarians pressed the Canadian government to carry out inspections such as these, the measures were often inadequate to ensure the children's welfare.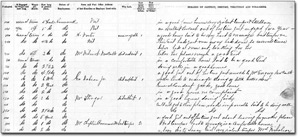 Click here to see a larger version (170K)
British Home Children [Left Side of Page]
Reference Code: RG 11-7
Archives of Ontario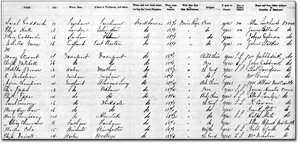 Click here to see a larger version (189K)
British Home Children [Right Side of Page]
Reference Code: RG 11-7
Archives of Ontario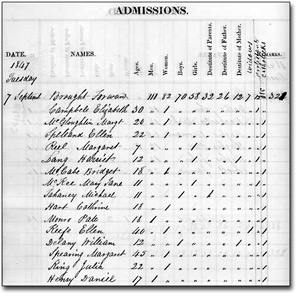 Click here to see a larger version (91K)
Hospital Admissions Register
Reference Code: RG11-6
Archives of Ontario
Several of the volumes document individuals who fled the Great Potato Famine in Ireland. This patient register (1847-1848), from an emigrant hospital, records medical assistance given during the typhus epidemic which afflicted those weakened by malnourishment and terrible conditions during the Atlantic crossing. Many individuals listed are orphans or widows.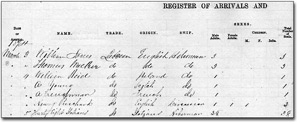 Click here to see a larger version (81K)
Arrival and Assistance Registers
Reference Code: RG 11-3-0-4
Archives of Ontario
This register reveals the increasingly diverse background of new immigrants in the 1870s. While a few decades earlier arrivals were mainly English, Scottish, Irish, or German, this page also lists French, Icelanders, Italians, and Norwegians. Other pages in this volume show that Belgians Danes, Swedes, and Swiss, were among the arrivals.
Assisted immigration registers (RG 11-3) document assistance provided to immigrants and volumes in RG 11-4 document their arrival and final destination.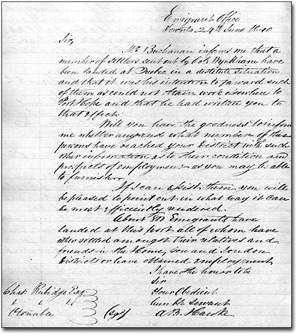 Click here to see a larger version (163K)
Correspondence Example
Reference Code: RG 11-1-0-1
Archives of Ontario
Hawke's letterbooks (RG 11-1) offer a detailed picture of the Chief Emigrant Agent's daily work and issues relating to immigration during the period 1835-1869.
Hawke reported to his superiors on local employment and living conditions, characteristics of arriving immigrants and problems in implementing policies.
He replied to inquiries from prospective emigrants abroad and corresponded with representatives of emigration societies. The letters cover a wide variety of other topics ranging from strategies for attracting the "right sort" of immigrant to unruly behaviour among new arrivals.