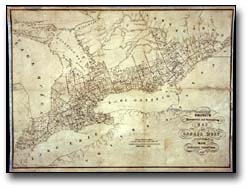 Smith's Commercial and Travelling Map of Canada
West /Compiled expressly for Smith's Gazetteer, 1846
H. & W. Rowsell, Publishers William Henry Smith
Reference Code: C 279-0-0-0-72
Archives of Ontario, I0004743
Jean Baptiste Rousseau (1758-1812), a fur trader, merchant, landowner and mill owner, was a founder of Ancaster, Ontario. The Jean Baptiste Rousseau family fonds (F 493), consisting of business and personal records of the Rousseau family, recently has been microfilmed and is available on interlibrary loan.
Jean Baptiste Rousseau (1758-1812) was a merchant, landowner and mill owner in Ancaster, Kingston and York. Rousseau served in the Indian Department from 1775 to 1779, acting as an interpreter and adviser on Indian affairs. After leaving government service, he engaged in trade on the north shore of Lake Ontario, at Kingston and along the Humber River.
In 1791, building upon his connections with Joseph Brant, he began trading with the Six Nations and erected a corn mill near Brantford, Ontario. By 1792 he was well established as a fur trader and general merchant at York. In 1794 he purchased a half-share in a grist and saw mill in Ancaster Township, subsequently moving his family there. He opened a general store, ran an inn and blacksmith shop, and acquired sizeable land holdings in the Ancaster area.
Active in the Upper Canadian militia, Rousseau participated in the Battle of Kingston. He died while on business at Fort George in 1812. Rousseau's sons, George and Joseph Brant Rousseau, continued to operate the family businesses after his death.
Microfilm consists of a copy of records created or collected by members of the family of Jean Baptiste Rousseau, particularly Jean Baptiste Rousseau himself and his son, Joseph Brant Rousseau. Included is a family account book and a memorandum book, personal, legal and business correspondence, and genealogical information compiled on the Rousseau family.
F 493 is available on microfilm MS 7294, Reel 1.