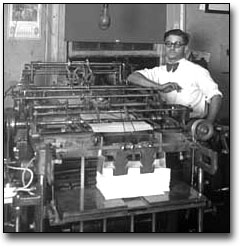 Newspaper office or printing firm, 1929
Duncan Donovan
Glass plate negative
Reference Code: C 128-5-2-1-30
Archives of Ontario, I0002453
This group of microfilm contains one hundred newspapers published by various cultural communities across Ontario from 1930 to 1987.
The filming of these newspapers was a joint project of the Archives of Ontario and the Multicultural History Society of Ontario.
Click on the newspaper in the table below to identify the reel(s) of microfilm that you need. Once you have identified a reel number you may:
Consult the reel(s) at our reading room on the ground floor, 134 Ian Macdonald Blvd., Toronto.


Order the reel(s) from the Interlibrary Loan Department of your public library. These reels cannot leave the borrowing library, so make sure to order them from a library that has a microfilm reader.