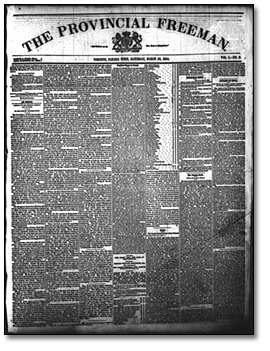 The Provincial Freeman
Reference Code: microfilm N 40, Reel 1
Archives of Ontario
(Original held by Rare Book &
Manuscript Library, University of Pennsylvania)
The Provincial Freeman was published from 1853 to 1857, first in Windsor, then in Toronto and Chatham. Published weekly, it advocated equality, integration and self-education for black people in Canada and the United States.
The debate on integration versus segregation was an important one in the black community at the time, many advocating separate institutions as a way to preserve their community's identity.
One of the editors of The Provincial Freeman, Mary Shadd Carey (1823-1893), was the first black woman publisher in North America and the first woman publisher in Canada.
She and her co-editor, the Rev. Samuel Ringgold Ward (1817-1867), were two of about 20,000 American-born black immigrants – both free-born and fugitive slaves – who moved to Canada between 1800 and 1865.
At the time the Provincial Freeman existed, the black population in Ontario was more than 35,000.
The Provincial Freeman


Newspaper
Archives of Ontario Microfilm Reference

PROVINCIAL FREEMAN

The Provincial Freeman was published in Windsor, Toronto and Chatham. It covers period March 24, 1853 to September 20, 1857.


Windsor (1853-1854),
Toronto (1854-1855)
Chatham (1855-1857)

Frequency: Weekly (irregular)

N 40 , Reel 1