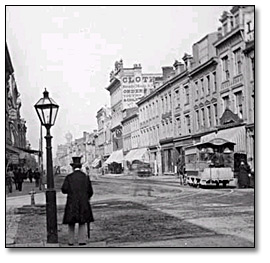 View of King Street, looking east from
Yonge Street, Toronto, 1878
Photographer unknown
Reference Code: F 4436-0-0-0-46
Archives of Ontario, I0021849
This microfilm consists of the directories for the City of Toronto (1833-1953) and Metropolitan Toronto (including East York, Etobicoke, North York, Scarborough and York) (1954-1983).
The earliest directories often contained numerous details promoting the city, ranging from buildings constricted, import/export totals, and prominent events of the previous year. Most of the directories contain the following sections in this order:
Classified Index: This section lists the street address and telephone number of the city's most prominent institutions, societies, and commercial operations, along with most named buildings (e.g. Madison Apartments), locations (e.g., Mayfair Square), and places of worship.
Name Index: This section lists the head of the household for most private dwellings and many apartment buildings. The information and abbreviations presented can include the name of the individual, their spouse, martial status, occupation and employer, type of dwelling (e.g., lodger, boarder, renter, homeowner) telephone number, and street address. Please note that some business and entertainment people can appear repeatedly under their personal, commercial, and company names.
Street Index: This section alphabetically lists the city's streets, giving the buildings, names of the occupants, and intersecting street on each side by order of their street number.

As Toronto's population expanded, the directories covering 1950-1983 grew so massive that four reels of microfilm are required to copy them. If you are looking to use the Classified or Name Index, order the first 3 reels for the year you are interested in. If you are looking to use the Street Index, order the last 3 reels.
These records are available on microfilm reel B 70 D5 Reels 1-238. To order you may:
Consult the reel(s) in our reading room at 134 Ian Macdonald Blvd., Toronto.
From the Interlibrary Loan Department of your public library, order the appropriate reel(s) as determined in table below. These reels cannot leave the borrowing library, so make sure to order them from a library that has a microfilm reader.
These Microfilm reels are also available at the Toronto Reference Library.
City of Toronto Directories



| Date | Publisher | Archives of Ontario Microfilm Reference |
| --- | --- | --- |
| 1833-1834 | Walton | B70, Reel 1 or 2 (complete copy on each reel) |
| 1837 | Home District | B70, Reel 2 |
| 1846-1847 | Brown | B70, Reel 2 or 3 (complete copy on each reel) |
| 1850-1851 | Rowsell | B70, Reel 2 or 3 (complete copy on each reel) |
| 1856 | Brown | B70, Reel 4, 5, or 6 (complete copy on each reel) |
| 1859-1860 | Caverhill | B70, Reel 3 or 5 (complete copy on each reel) |
| 1861 | Brown | B70, Reel 5 or 6 (complete copy on each reel) |
| 1862-1863 | Hurchinson | B70, Reel 5 or 6 (complete copy on each reel) |
| 1864-1865 | Mitchell | B70, Reel 4, 5, or 6 (complete copy on each reel) |
| 1866 | Mitchell | B70, Reel 84 |
| 1867-1868 | Sutherland | B70, Reel 7 |
| 1868-1869 | McVoy (compiler) | B70, Reel 8 |
| 1870 | Irwin (compiler) | B70, Reel 7 |
| 1872-1873 | Irwin (compiler) | B70, Reel 3 |
| 1873 | Cherrier, Kirwin, and McGown | B70, Reel 8 |
| 1874 | Fisher and Taylor | B70, Reel 8 |
| 1875 | Fisher and Taylor | B70, Reel 8 |
| 1876 | Fisher and Taylor | B70, Reel 9 |
| 1877 | Might and Taylor | B70, Reel 9 |
| 1878 | Might and Taylor | B70, Reel 10 |
| 1879 | Might and Taylor | B70, Reel 10 |
| 1880 | Might and Taylor | B70, Reel 11 |
| 1881 | Might | B70, Reel 2 |
| 1882 | Might | B70, Reels 12 and 13 |
| 1883 | Polk | B70, Reel 13 (Pages 7-184 are missing; directory begins with "Ayers, S") |
| 1884 | Polk | B70, Reel 14 |
| 1885 | Polk | B70, Reels 14 and 15 |
| 1886 | Polk | B70, Reel 16 |
| 1887 | Polk | B70, Reel 17 |
| 1888 | Polk | B70, Reels 18 and 19 |
| 1889 | Polk | B70, Reels 19 and 20 |
| 1889 | Union Publishing Company | B70, Reel 20 |
| 1890 | Polk | B70, Reels 21 and 22 |
| 1891 | Union Publishing Company | B70, Reel 23 |
| 1891 | Might | B70, Reels 23 and 24 |
| 1892 | Might | B70, Reels 24 and 25 |
| 1893 | Might | B70, Reels 25 to 26 |
| 1894 | Might | B70, Reels 27 and 28 |
| 1895 | Might | B70, Reels 28 and 29 |
| 1896 | Might | B70, Reels 30 to 32 |
| 1897 | Might | B70, Reels 32 and 33 |
| 1899 | Might | B70, Reels 33 and 34 |
| 1900 | Might | B70, Reels 35 and 35 |
| 1901 | Might | B70, Reel 35 |
| 1902 | Might | B70, Reel 36 |
| 1903 | Might | B70, Reel 37 |
| 1904 | Might | B70, Reel 38 |
| 1905 | Might | B70, Reels 38 and 39 |
| 1906 | Might | B70, Reels 39 and 40 |
| 1907 | Might | B70, Reels 40 to 42 |
| 1908 | Might | B70, Reels 42 and 43 |
| 1909 | Might | B70, Reels 43 and 44 |
| 1910 | Might | B70, Reels 44 and 45 |
| 1911 | Might | B70, Reels 45 and 46 |
| 1912 | Might | B70, Reels 46 and 47 |
| 1913 | Might | B70, Reels 48 and 49 |
| 1914 | Might | B70, Reels 49 and 50 |
| 1915 | Might | B70, Reels 51 and 52 |
| 1916 | Might | B70, Reels 52 and 53 |
| 1917 | Might | B70, Reels 54 and 55 |
| 1918 | Might | B70, Reels 55 and 56 |
| 1919 | Might | B70, Reel 57 |
| 1920 | Might | B70, Reels 58 and 59 |
| 1921 | Might | B70, Reels 59 and 60 |
| 1922 | Might | B70, Reels 61 and 62 |
| 1923 | Might | B70, Reels 62 to 64 |
| 1924 | Might | B70, Reels 64 to 66 |
| 1925 | Might | B70, Reels 66 and 67 |
| 1926 | Might | B70, Reels 67 to 69 |
| 1927 | Might | B70, Reels 69 and 70 |
| 1928 | Might | B70, Reels 71 and 72 |
| 1929 | Might | B70, Reels 72 to 74 |
| 1930 | Might | B70, Reels 74 to 76 |
| 1931 | Might | B70, Reels 76 to 78 |
| 1932 | Might | B70, Reels 78 to 80 |
| 1935 | Might | B70, Reels 80 to 82 |
| 1936 | Might | B70, Reels 82 and 83 |
| 1937 | Might | B70, Reels 85 and 86 |
| 1938 | Might | B70, Reels 87 and 88 |
| 1939 | Might | B70, Reels 89 and 90 |
| 1940 | Might | B70, Reels 91 and 92 |
| 1941 | Might | B70, Reels 93 and 94 |
| 1942 | Might | B70, Reels 95 and 96 |
| 1943 | Might | B70, Reels 97 and 98 |
| 1944 | Might | B70, Reels 99 and 100 |
| 1945 | Might | B70, Reels 101 and 102 |
| 1946 | Might | B70, Reels 103 and 104 |
| 1947 | Might | B70, Reels 105 and 106 |
| 1948 | Might | B70, Reels 107 and 108 |
| 1949 | Might | B70, Reels 109 and 110 |
| 1950 | Might | B70, Reels 111 to 114 |
| 1951 | Might | B70, Reels 115 to 118 |
| 1952 | Might | B70, Reels 119 to 122 |
| 1953 | Might | B70, Reels 123 to 126 |
| 1954 | Might | B70, Reels 127 to 103 |
| 1955 | Might | B70, Reels 131 to 134 |
| 1956 | Might | B70, Reels 135 to 138 |
| 1957 | Might | B70, Reels 139 to 142 |
| 1958 | Might | B70, Reels 143 to 146 |
| 1959 | Might | B70, Reels 147 to 150 |
| 1960 | Might | B70, Reels 151 to 154 |
| 1961 | Might | B70, Reels 155 to 158 |
| 1962 | Might | B70, Reels 159 to 162 |
| 1963 | Might | B70, Reels 163 to 166 |
| 1964 | Might | B70, Reels 167 to 170 |
| 1965 | Might | B70, Reels 171 to 174 |
| 1966 | Might | B70, Reels 175 to 178 |
| 1967 | Might | B70, Reels 179 to 182 |
| 1968 | Might | B70, Reels 183 to 186 |
| 1969 | Might | B70, Reels 187 to 190 |
| 1970 | Might | B70, Reels 191 to 194 |
| 1971 | Might | B70, Reels 195 to 198 |
| 1972 | Might | B70, Reels 199 to 202 |
| 1973 | Might | B70, Reels 203 to 206 |
| 1974 | Might | B70, Reels 207 to 210 |
| 1975 | Might | B70, Reels 211 to 214 |
| 1976 | Might | B70, Reels 215 to 218 |
| 1977 | Might | B70, Reels 219 to 222 |
| 1978-1979 | Might | B70, Reels 223 to 226 |
| 1980 | Might | B70, Reels 227 to 230 |
| 1981-1982 | Might | B70, Reels 231 to 234 |
| 1983 | Might | B70, Reels 235 to 238 |