Wartime narratives often overlook the perspectives of the most vulnerable. In this exhibit, the Archives of Ontario turns its focus on children who were helplessly caught in the middle of an armed conflict - an experience tragically shared by many young people across the planet, past and present.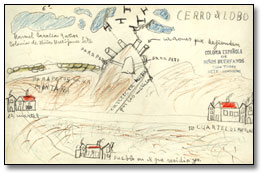 Click to see a larger image (96K)
"Cerro el lobo", (Wolf Hill), [between 1936 and 1939]
Manuel Casall, 9 years old
Colonia de Niño Huerfanos Sète
(orphans' colony)
Alexander Albert MacLeod fonds
Reference Code: F 126-4
Archives of Ontario, I0029900
This exhibit highlights artwork created by a group of children who, in the mid 20th-century, unwittingly found their lives uprooted by the onset of the Spanish Civil War.
Like the artwork, the photographic images in this exhibit are from the Alexander Albert MacLeod fonds and serve as a reminder of both the frailty and the resilience of children during times of adversity.