In the summer of 1604, a group of settlers which included Samuel de Champlain founded a French settlement in North America, on Sainte-Croix Island, Sainte-Croix River (Bay of Fundy). Champlain founded Quebec four years later and, in 1610, the first French explorers came to what is now Ontario.
Over the following century and a half, the French continued to explore our province and the lands beyond and many of them chose to settle here.
After the British conquest, the Canadiens continued to play a role in the province's economic and political life.
The Archives of Ontario is pleased to commemorate four centuries of French presence on the Continent with "French Ontario in the 17th and 18th Centuries". Through maps, photographs, paintings and textual documents, the exhibit tells the story of the first two centuries that followed the first French explorations of our province, in 1610.
Follow explorers, missionaries, coureurs des bois, soldiers and settlers as they take us to the pays d'en haut.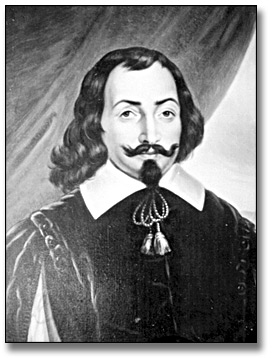 [Portrait painting of Samuel de Champlain], 1945
Artist unknown, Ministry of Tourism
RG 65-35-1, 30-J-45, AO 4587
Archives of Ontario, I0014666 Note: There is no known true portrait of Champlain. The picture above is based on a painting that has come to represent the popular image of the explorer.