The Archives of Ontario is pleased to introduce this anniversary exhibition, a joint project of the
Archives of Ontario
and the
Law Society of Upper Canada (LSUC).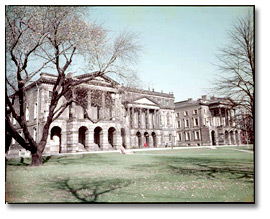 Click to see a larger image (124K)
Osgoode Hall, 1952
Department of Travel and Publicity, Publicity Transparency
Reference Code: RG 65-35 -3, 11764-X2594
Archives of Ontario, I0005529
Osgoode Hall, a National Historic Site of Canada, is celebrating its 175th birthday in 2007. The building is both venerable and architecturally significant and one of the best-preserved, and best-documented historical structures in Ontario. It is home to the governing body of the lawyers of Ontario and the superior courts of the Province, both known for their love of records and their timeless purposes.
The text has been authored by the curator of Osgoode Hall, Elise Brunet. Technical and administrative support have been provided by the Archives of Ontario, and images are from the collections of the archives of the Law Society of Upper Canada and the Archives of Ontario.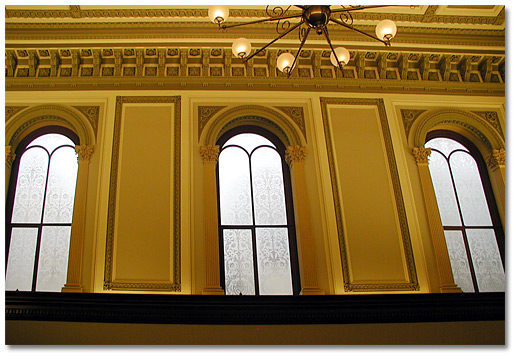 Detail of Courtroom 4 (formerly Queen's Bench), Osgoode Hall, 2006
The Law Society of Upper Canada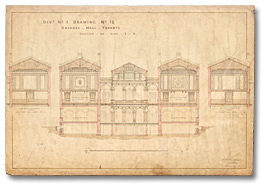 Click to see a larger image (63K)
Osgoode Hall, section on Line L-K
Division 1, Drawing 12
J. C. B. and E. C. Horwood Collection
Reference Code: C 11-702-13-25
Archives of Ontario
Unfortunately, there is not much to tell us about the early years of the building. The drawings from Cumberland & Storm, once a leading architectural firm in Canada, date from 1856 to 1861, not from the birth of Osgoode Hall in 1832. But, one could argue that Cumberland and Storm "made" Osgoode Hall. Their work on the expansion and reconstruction of the building has given us the façade and public spaces that truly define Osgoode Hall today.
So it is that period that is the focus of this exhibit which explores how Osgoode Hall was "born," from the needs of its owners to its conception: starting with a spark in the mind of the architect, to its design and planning, and finally to its construction.