Founded on June 25, 1872, the Ontario Society of Artists (OSA) is the oldest continuing art society in Ontario. The impetus for its establishment came from a small group of seven artists who held their first meeting at the home of John A. Fraser on Gould Street in Toronto. Those present included noted marine watercolourist, Robert Ford Gagen, Marmaduke Matthews, best known for his watercolours of Rocky Mountain scenes, Thomas Mower Martin, Charles S. Millard, who was born in Ontario but spent much of his life in Britain, James Hoch, and portrait artist, J. W. Bridgman. Many of the founding members can be seen in the photograph from 1889 below.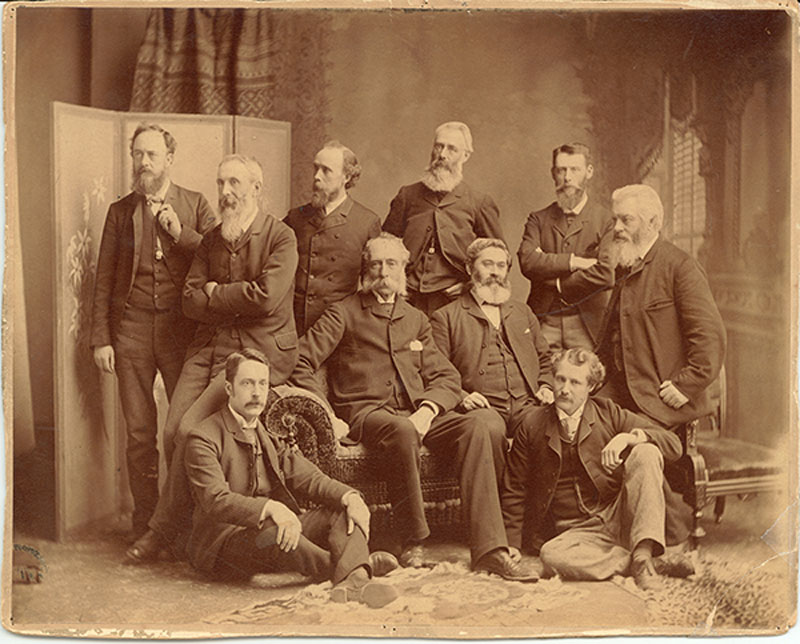 Click to see a larger image
Ontario Society of Artists Members, 1889
William Daniel Blatchly, Marmaduke M. Mathews, John Wycliffe Lowes Forster,
Thomas Mower Martin, Hamilton P. McCarthy, H. Hanniford, Robert Ford Gagen,
Hon. G. Allen, William Revell, William Albert Sherwood
Ontario Society of Artists fonds
Reference Code: F 1140-7-0-2.2
Archives of Ontario, I0010501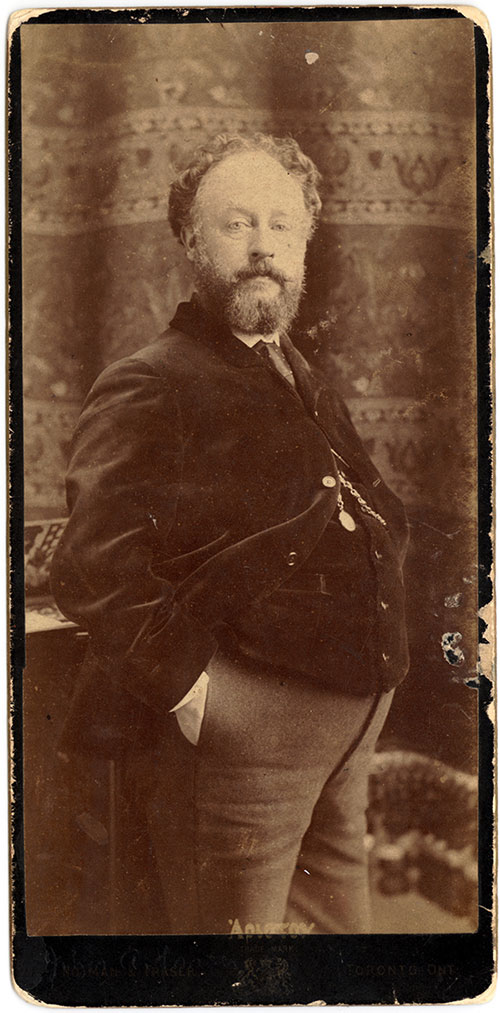 Click to see a larger image
John Arthur Fraser, [ca. 1875]
Ontario Society of Artists fonds
Reference Code: F 1140-7-0-1
Archives of Ontario, I0010387
A key figure in the early days of the OSA was John Fraser, who was born in England and had come to Toronto from Montreal, where he was an active member of the Society of Canadian Artists.

As a junior business partner in the Notman and Fraser photographic firm, it was Fraser's skill in hand-tinting and colouring photographs that greatly contributed to the success and expansion of the Notman & Fraser business.

The OSA's second meeting was held in July 1872.  During which, the OSA's constitution was unanimously adopted. It contained sixteen articles, the most important of which called for the establishment in Toronto of a permanent public art gallery and the holding of annual art exhibitions by the OSA.

The First Exhibition
The OSA's first exhibition was scheduled to be held in April of 1873. Unfortunately, with little permanent gallery space available in Toronto, the OSA had trouble locating a suitable facility. However, with the construction of the new Notman & Fraser premises on King Street East, Fraser was able to make these available at no cost to the group.
A favourable description of the exhibition was reported by the Canadian Illustrated News. Selected paintings were reproduced in its edition on May 3, accompanied by a lengthy article and an interior view of the gallery, which was featured on its cover.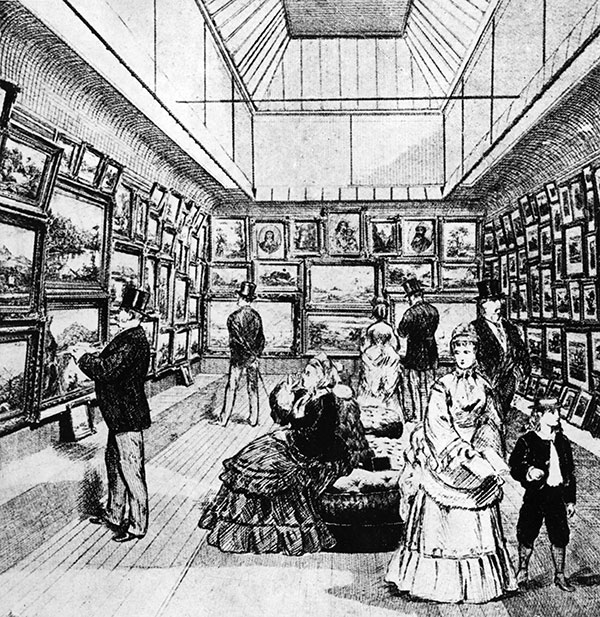 Click to see a larger image
[Detail of an illustration depicting the Ontario Society of Artist's first exhibition at Fraser's Gallery,
King St. West, in Toronto from Canadian Illustrated News, Vol. 7, no. 18 (May 3, 1873)]
Ontario Society of Artists fonds
Black and white print
Reference Code: F 1140-7-0-3-3
Archives of Ontario, I0010326
The writer for Canadian Illustrated News  states:
"In forming the Society the artists of Ontario have had in view : first, their desire to bring their productions to the notice of their countrymen through the means of the exhibition; and they have had a second but higher motive of establishing their own art in its proper position as one of the means of refinement and education here, and I think the verdict of all our people will be that both objects are good and deserving of all confidence and support.
Twenty-eight artists entered 251 works in either oil or watercolour that were hung "
salon style.
" The exhibition was a tremendous success and drew more than 4,000 interested visitors.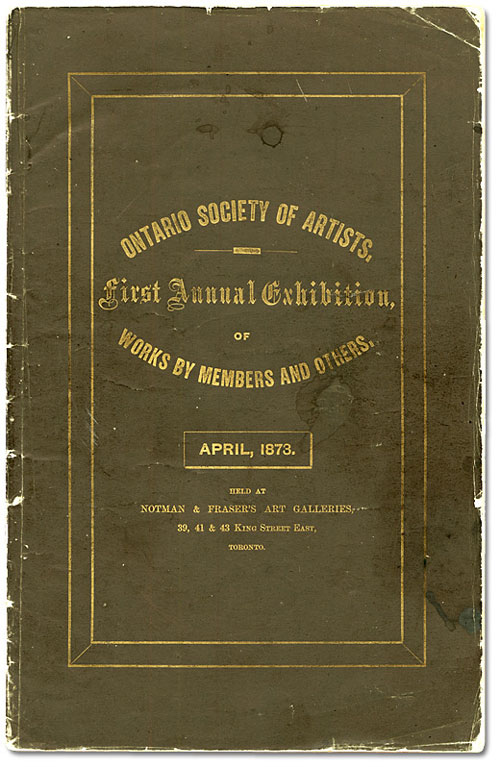 Click to see a larger image
Catalogue of the OSA First Annual Exhibition held at Notman & Fraser's Art Galleries, 39, 41 & 43 King Street East, Toronto, April 1873
Ontario Society of Artists fonds
Reference Code: F 1140-2259
Archives of Ontario
In addition, an 'Art Union' was held, whereby subscribers could purchase tickets in advance for $5. Each ticket provided the chance for one of 50 artwork prizes ranging in value from $25 to $150, a chromolithograph of a well-known painting, and unlimited entry to the exhibition.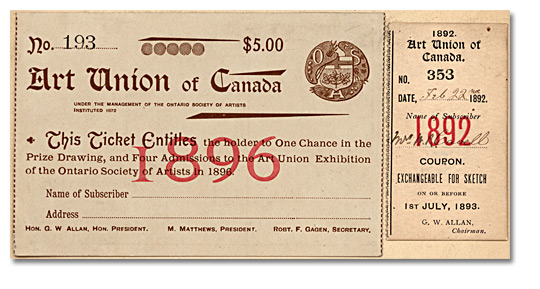 Click to see a larger image
Ontario Society of Artists Art Union Ticket,
1896 and Ticket Stub, 1892
Ontario Society of Artists fonds
Reference Code: F 1140-1
Archives of Ontario
The Government of Ontario purchased artworks from this first exhibition. Although no details have survived about the pieces acquired, the amount of $1,065 is recorded for the purchase of paintings in both the records of the OSA and the Public Accounts of the Province for 1873. The records of the OSA, including details of members and meetings as well as photographs and catalogues, provide a fascinating account of the OSA's activities since its founding in 1872. These records were acquired by the Archives from the OSA beginning in 1965. Additional donations of records from the OSA were made to the Archives in 1972 and 1993.
In this Exhibit -