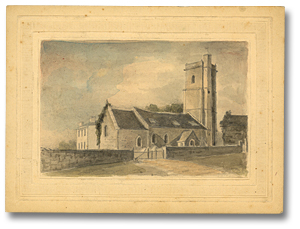 Click to see a larger version (153K)
Church in England, [179?], (detail)
Elizabeth Simcoe, (1766-1850)
Watercolour
Reference Code: F 47-11-3-2
Archives of Ontario, I0007703
Baptized on September 22, 1762 in Aldwincle, Northamptonshire, England, Elizabeth Posthuma Gwillim knew neither of her parents. Her father, Lieutenant-Colonel Thomas Gwillim, died prior to her birth (hence, her middle name, "Posthuma") and her mother died in childbirth.
The orphaned child was raised by her mother's younger sister, Margaret, who married Admiral Samuel Graves on June 14, 1769. In the spring of 1782, while living at the Graves' Devon home, Elizabeth met the admiral's godson, John Graves Simcoe. They were married later that year. Elizabeth was 16; John was 29.
Following their marriage, the Simcoes moved to Exeter, where their first three children were born. Then, with the substantial inheritance she had received from her parents, Elizabeth purchased an estate at Wolford near Honiton, in Devon. Living a "secluded" life at Wolford, Elizabeth and John set about improving the property. Elizabeth also gave birth to five more children.
In 1791, John was appointed Lieutenant Governor of Upper Canada and, accompanied by their two youngest children, he and Elizabeth set sail for the colonies.
The first entry in Elizabeth's diary was made on September 17th, 1791, the day the family arrived in Weymouth, their port of departure.
This one simple line was the beginning of what would become an extensive collection of diaries detailing Elizabeth's Canadian adventures.
"We arrived at Weymouth. I walked with Lady Collier on the Esplanade in the evening."
- September 17th, 1791