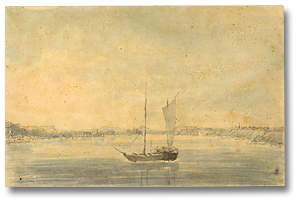 Click to see a larger version (130K)
Quebec, St. Audrey, Grondines, Dechambeau,
September 23, 1794, (detail)
Elizabeth Simcoe, (1766-1850)
Watercolour paper, full
Reference Code: F 47-11-1-0-153
Archives of Ontario, I0007005
Elizabeth was welcomed back in Quebec with open arms by the local elite, and her diaries speak of a whirlwind of social gatherings and elegant functions.
By early 1795, however, it had become clear that an invasion was not imminent, and Elizabeth decided, in spite of her aversion to a winter journey west, to return to Upper Canada.
She missed her husband, and he missed her, as is evident from the following verse written by him which was found in the manuscript of her diary:
Twice six revolving years have run their course thro yonder azure plains, diffusing joy
Gladness and light has discontinuous mov'd
Since thou, Eliza, overflowing source of happiness domestic, dost employ
My wedded thoughts, most honour'd, most belov'd
And if the gathering clouds of fleeting life
Besides, thy presence soon illumines the scene
And pleasure draws from elemental strife;
And now when Night and Absence intervene
O may my wishes wing their speedy way;
Return, thou source of joy; return, thou source of day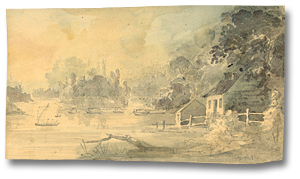 Click to see a larger version (133K)
Presqu'ile, Bay of Quinte, [ca. 1795] (detail)
Elizabeth Simcoe, (1766-1850)
Wash/paper, grey
Reference Code: F 47-11-1-0-161
Archives of Ontario, I0007013
At this time of year, the only available route was by land along the north side of the St. Lawrence.
After quite an arduous journey, but one which she took in good humour, in mid-February Elizabeth met up with her husband at New Johnstown (Cornwall), where he was laying plans to establish roads and settlements in the area.
Soon, they proceeded to Kingston, where Simcoe became seriously ill.
Elizabeth, too, came down with the flu, and it was mid-May before they finally reached York. In July, they returned to Niagara, for the legislative term. That summer, they took the opportunity to travel around the Niagara peninsula.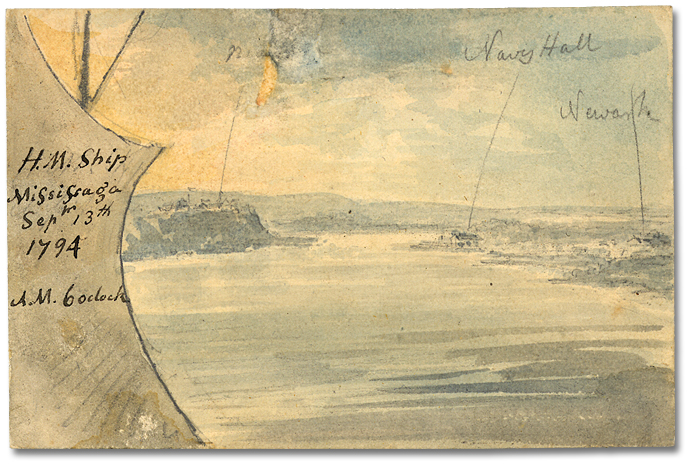 Click to see a larger version (155K)
His Majesty's Ship Mississauga; Niagara, Navy Hall, Newark;
Sept. 13, 1794, 6 o'clock AM (detail)
Elizabeth Simcoe, (1766-1850)
Wash/paper
Reference Code: F 47-11-1-0-144
Archives of Ontario, I0006996