Navy Hall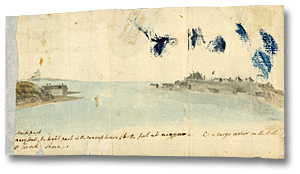 Click to see a larger version (122K)
Navy Hall, the part is the canvas house b) The
fort at Niagara c) A large arbour in the HiIl d)
Toronto Shore
, [ca. 1793]
(detail)
Elizabeth Simcoe, (1766-1850)
Wash/paper
Reference Code: F 47-11-1-0-99
Archives of Ontario, I0006951
The Simcoes docked at Navy Hall in Newark (Niagara on the Lake) on July 26th, 1792.
Navy Hall, part of a group of buildings which stood on the edge of the Niagara River, was used by British commanders who travelled to Lake Ontario.
It served to supply military vessels which cruised to the western part of the lake.
The first legislature was held at Navy Hall on September 17th 1792.


Click to see a larger version (85K)
Niagara Falls, Ontario, July 30, 1792, (detail)
Elizabeth Simcoe, (1766-1850)
Watercolour paper
Reference Code: F 47-11-1-0-71
Archives of Ontario, I0006923
"I descended an exceedingly steep hill to get to the Table Rock, from whence the view of the Falls is tremendously fine. Men sometimes descend the rocks below this projecting point, but it is attended with great difficulty and perhaps little picturesque advantage.

"The prodigious spray which arises from the foam at the bottom of the falls adds grandeur to the scene, which is wonderfully fine, and after the eye becomes more familiar with the objects I think the pleasure will be greater in dwelling on them."
- August 3, 1792
Click here to listen to a recording of the quote in wav format (417K)

"People cross from Chippawa to Fort Schlosser (an earthwork fort on the American shore, about a mile and a half above the Falls), but great caution is necessary, the current is so extremely strong and if they did not make exactly the mouth of the Chippawa the force of the water below it would inevitably carry them down the Falls without redress. Eight soldiers, who were intoxicated, met with this accident in crossing the river some years since. Their bodies were taken up entire some distance below the Falls. An Indian was in his canoe near Fort Schlosser. The canoe was tied to a tree; some person cut the rope; he did not wake until the canoe had gotten into the strong current. He found all his endeavours to paddle ineffectual and was seen to lay himself down, resigning himself to his fate, and was soon carried down the falls."
- July 30th, 1792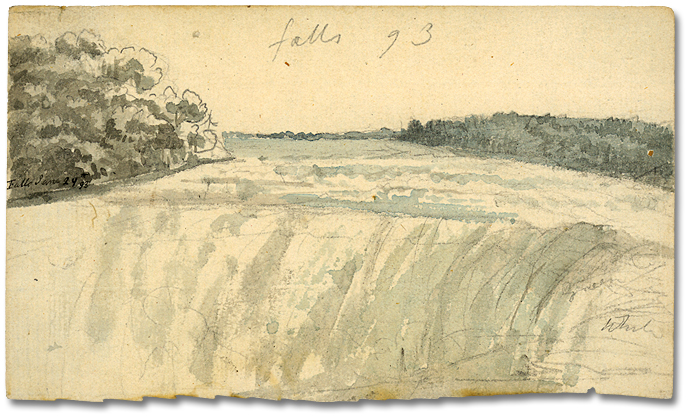 Click to see a larger version (130K)
View of the falls, June 29, 1793, (detail)
Elizabeth Simcoe, (1766-1850)
Watercolour paper
Reference Code: F 47-11-1-0-97
Archives of Ontario, I0006949
The Simcoes wintered over in Newark where Elizabeth gave birth to a daughter, Katherine, in mid January, 1793. Writing to a friend who was caring for the Simcoes' four eldest children in England, Elizabeth painted a happy picture of her life in Upper Canada.
"The whole winter has been like an exceedingly fine, dry autumn in England; the climate is delightful and the country plentiful, and a pleasant society within a certain circle; in short, we have nothing to complain of but not seeing the children and the absence of some friends."
- Navy Hall, February 1793