The Simcoes finally arrived in Kingston on Sunday July 1st, 1792.
On June 8th, 1792 the Simcoes and their party set out by boat for Upper Canada along the St. Lawrence River.
The picture to the right portrays a scene along the river and was painted on the day of their departure.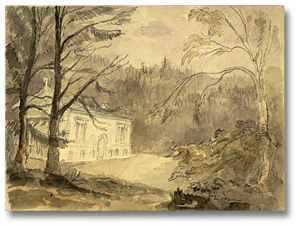 Click to see a larger version (128K)
Kingston, Ontario, 1796
Elizabeth Simcoe, (1766-1850)
Watercolour/paper
Reference Code: F 47-11-1-0-284
Archives of Ontario, I0006356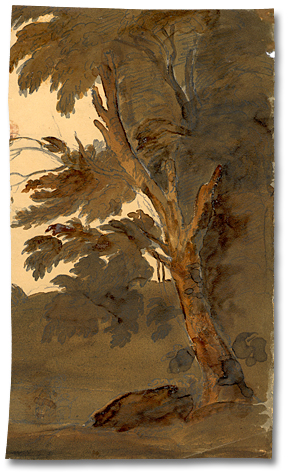 Click to see a larger version (441K)
Tree [fragment]
Elizabeth Simcoe, (1766-1850)
Wash/paper, brown, with varnish
Reference Code: F 47-11-1-0-370
Archives of Ontario, I0007222