As they relate to the study of history, primary documents are records "created in the past, which have survived into the present." Letters, photos, drawings, and other records that were created at or near the time being studied bring a dimension to the subject that is not available through any other means.
Primary documents provide a unique perspective on historic events and situations. Unlike textbooks which provide a retelling of the events from the perspective of the author, primary documents are treasures that have emerged from history intact. They are time-capsules that provide windows into the past that are not available any other way.
For further information visit these sources:
Primary documents are those records created in the past, at or close to the time under study, which have survived into the present. Historians have traditionally used a wide variety of written records, from personal diaries created by a child to statistical records kept by government departments, as the foundation for their historical investigation. More recently, historians have been drawing on non-document records, including photographs, moving pictures, the spoken word and even architectural plans or botanical (plant) inventories to find clues about how people lived in the past.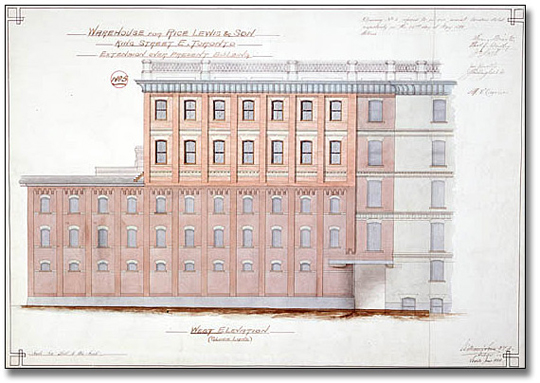 Rice Lewis Warehouse, King and Victoria front elevation, 1886-1891
William G. Storm
Watercolour on paper
J. C. B. & E. C. Horwood Collection
Reference Code: C 11-757-0-1,(714)9
Archives of Ontario, I0005469
All of these primary documents are, in an important sense, the "raw materials" that historians work with as they attempt to figure out 'what happened' in the past, and what it all means to us in the present.
The past is not the same as history. The past involves everything that ever happened since the beginning of time – every thought and action of each and every human being on the planet, every tree that fell in the forest, and every chemical transformation in this universe and others since the dawn of time.
History, by contrast, is an interpretation, or rather a process by which people interpret records left over from the past. Historians have always relied heavily on written records, but spoken, visual, archeological and botanical records have been investigated for what they can help us understand about human life on this planet.
People do their historical work of interpreting records from the past in the context of other people's (usually historians') interpretations, and according to certain rules, particularly rules of evidence. But the process of historical interpretation also takes place in the context of certain assumptions (assumptions which are often challenged and argued about) concerning what is worth knowing about in the past. History concerns those issues, events, people and ideas that people, or at least some people, think are important.
History is the process of turning the past into history. History is the narrative that gives meaning, sense and explanatory force to the past in the present.
Here are two lessons that can be used to introduce your students to primary documents, or history as a process.