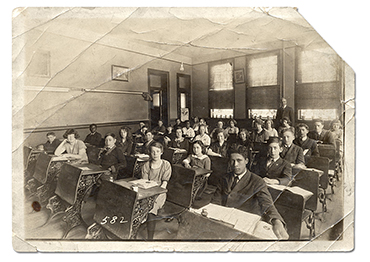 In this workshop, students will use material from the Alvin McCurdy fonds to explore and interpret Black Canadian history in the 19th and 20th centuries. Alvin McCurdy was born in 1916 in Amherstburg, Ontario and his collection of photographs, newspaper clippings, and scrapbooks is the Archives' largest and most important source of information about the history of Black communities in Ontario. By exploring records from this collection and developing their own creative historical interpretations, students will be encouraged to think about how history is written and the strategies they can use to write their own history. Students will also get a chance to go on a behind-the-scenes tour of the Archives and learn more about the preservation of this important collection.
This workshop aligns with the
Students will be involved with different components of the Inquiry Process by:
Formulating questions
Gathering and organizing information, evidence, and/or data
Interpreting and analysing information, evidence, and/or data
Evaluating information, evidence, and/or data and drawing conclusions
Communicating findings
Upon receiving a booking confirmation, teachers will receive an introductory package to prepare students for their visit. This package will include:


An "Introduction to the Archives of Ontario" one-sheet for teachers

A "What is an Archive?" handout and worksheet for students

An Archives of Ontario vocabulary word game
In a travelling format, with a 45-60 minute time frame, this workshop will introduce the Archives of Ontario and the important place the Alvin McCurdy collection has within in. Using reproductions from this collection, students will be invited to organize a selection of these records, which can then be used to create secondary interpretations. While students will be able to begin the interpretation activity during class, teachers are encouraged to continue this activity with students in their following class.
To book an onsite visit, complete a Booking Request Form [PDF] and a member of our team will get back to you to confirm details.