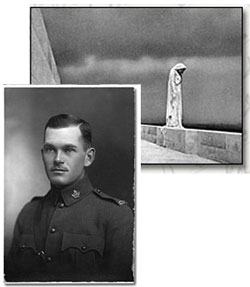 Letters, diary entries, and photographs are the types of records that trace how ordinary people experienced and lived through The Great War. By exploring records from our exhibit Dear Sadie: Love, lives, and remembrance from Ontario's First World War, students will develop a research question, explore possible responses, and communicate their findings about life in World War I in creative and collaborative ways. Students will be introduced to the Archives of Ontario as an important site for preserving sources from World War I by going on a behind-the-scenes tour of our facility and talking with Archives staff about their work.
This workshop aligns with the
Students will be involved with different components of the Inquiry Process by:
Formulating questions
Gathering and organizing information, evidence, and/or data
Interpreting and analysing information, evidence, and/or data
Evaluating information, evidence, and/or data and drawing conclusions
Communicating findings
In a travelling format, with a 60-75 minute time frame, this workshop will consist of a PowerPoint introduction to the Archives of Ontario and an activity asking students to use primary sources as evidence for predetermined questions.
For teachers interested in students conducting their own research in the Archives of Ontario's Reading Room, we offer a three step process to facilitate this:
An "Advanced Primary Sources" workshop at your school to introduce your students to the process of doing archival research
Email communication prior to visit ensuring records  are available for your visit
Introduction to the Reading Room and reference services during the scheduled visit
Email Alison.Little@ontario.ca for more information
To book an onsite visit, complete a Booking Request Form [PDF] and a member of our team will get back to you to confirm details.