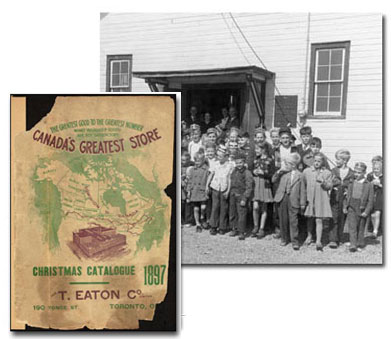 What would the life of a 13 year old look like before World War I? What would they own, what would they buy, what would they want? This hands-on workshop will give students the opportunity to look at primary source records to gather information and draw conclusions about the life of a youth in the period between 1890 and 1910. By looking at Eaton's catalogues from the turn of the 20th century, students will compare and contrast their lives to the lives of 13 year olds before the war. Working in our exhibit, Dear Sadie: Love, lives, and remembrance from Ontario's First World War, students will be able to see artifacts from this period that may have been ordered from Eaton's catalogues. This workshop includes a behind-the-scenes tour of the Archives of Ontario and connects with the Canada: A changing society curriculum.
This workshop aligns with the
Students will be involved with different components of the Inquiry Process by:
Formulating questions
Gathering and organizing information, evidence, and/or data
Interpreting and analysing information, evidence, and/or data
Evaluating information, evidence, and/or data and drawing conclusions
Communicating findings
In a travelling format, with a 60-75 minute time frame, this workshop will consist of a PowerPoint introduction to the Archives of Ontario and an activity asking students to use primary sources as evidence for predetermined questions.
To book an onsite visit, complete a Booking Request Form [PDF] and a member of our team will get back to you to confirm details.