Donald Lewis was born in Toronto in 1935. He attended Danforth Technical School, Toronto and graduated from the Ontario College of Art in 1957.
After working for three years in the props department at the Stratford Festival Theatre, Lewis became involved in acting (under the stage name Lewis Gordon) and won the Tyrone Guthrie Award in 1961.
During his career on the stage, Lewis continued his interest in set, costume, poster design and mural work. He designed the "Art in Theatre" Exhibition at Stratford in 1968.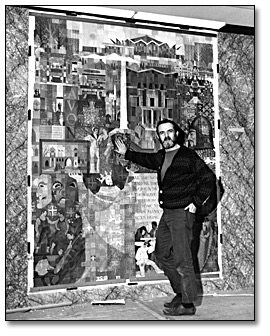 Click to see a larger image (456K)
Donald Lewis installing his mural, Stratford, on the first floor of the Macdonald Block, 1968 (detail)
Black and white photograph
Government of Ontario Art Collection
Archives of Ontario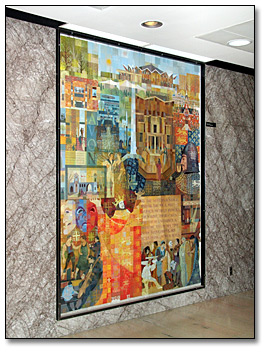 The two-dimensional effect of this acrylic on canvas mural, with its superimposed figurative motifs, compliments the A. J. Casson mural, adjacent.
Stratford adapts a power-like style in a fine-art medium to convey, as Lewis stated, "…the close harmony between the theatre and the city of Stratford, which is apparent to visitors."
The quotation in the lower right corner is from Act II, Scene vii of Shakespeare's As You Like It.
Click to see a larger image (173K)
Donald Lewis', Stratford, on the first floor of the Macdonald Block
Government of Ontario Art Collection
Archives of Ontario