Gerald Trottier was born in Ottawa in 1925. He studied at the Art Students' League in New York City from 1947 to 1949. He went to Europe in 1953 on a Canadian Amateur Hockey Association Scholarship for Study and, in 1962, on a Canada Council Senior Art Fellowship.
Since 1955, Trottier's work has been exhibited in both one-man shows and public collections, across Canada and internationally. He is a member of the Canadian Society of Painters in Water Colour and the Canadian Society of Graphic Artists. Trottier held the post of Artist in Residence at the University of Western Ontario in 1967, before joining the Canadian Broadcasting Corporation in Ottawa.
The artist's work is typically expressionistic, though he uses a variety of media. In the mosaic displayed here, he has combined Byzantine smalti and stone.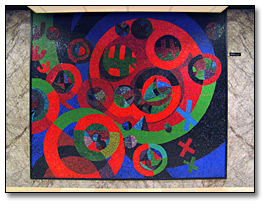 Click to see a larger image (590K)
Untitled, [ca. 1966-68]
Gerald Trottier
mixed stone mosaic
Government of Ontario Art Collection, 619759