Sydney H. Watson was born in Toronto in 1911 and died there in 1981. He held the post of Art Master at Lakefield Preparatory School from 1940 to 1944. In 1946, he joined the staff of the Ontario College of Art, Toronto and, in 1955, he was appointed Principal.
Watson's memberships included the Royal Canadian Academy of Arts (Pres.,1952-54), the Ontario Society of Artist (Pres., 1952-54), the Canadian Society of Painters in Water Colour, the Canadian Group of Painters and the National Industrial Design Council.
He appears in the photograph to the right, taken in 1959, of an Ontario Society of Artists jury.
Watson participated in several Canadian travelling exhibitions in England, the USA, Australia and New Zealand. His commissioned works include murals in the Imperial Oil Head Office, Toronto; the Canadian Imperial Bank of Commerce, Montreal; and the Chemistry Building, University of Toronto.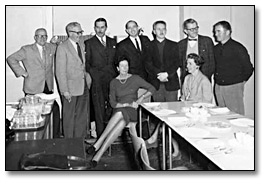 Click to see a larger image (211K)
Ontario Society of Artists Jury, Painting and Sculpture
L-R Fred Finley, Syd. Watson, Cleeve Horne,
Mack Houston, E.L. Cox, York Wilson, Walter
Yarwood, Babs Haworth, Jean Horne, 1959 (detail)
Photographer unknown
Ontario Society of Artists fonds
Black and white print
Reference Code: F 1140-7-0-2.1
Archives of Ontario, I0010447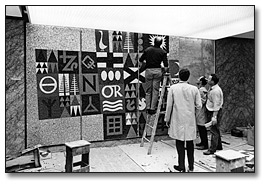 Click to see a larger image (258K)
Sydney Watson Installing His Mosaic, "Province of Ontario" in the Macdonald Block
Black and white print
Government of Ontario Art Collection
Archives of Ontario
The smalti mosaic used in this mural is derived from a special process involving cobalt.
Watson has used a variety of traditional and contemporary symbols to illuminate the historical background of Ontario's founding races, its natural resources and its products. Within the mural are to be found the crosses of Saints George, Andrew and Patrick and the flag carried by Samuel de Champlain.