The Rideau Canal was an important project in its day, and several military artists documented it. Thomas Burrowes stands out among them primarily for the size of the collection he left, but also for the detailed record he gave us of first-generation settlement on the Rideau and for his narrative, almost naïve style of painting.
When it comes to understanding the past, artists like Thomas Burrowes are much more useful than more technically skilled topographical artists, who were admittedly more successful in creating the three-dimensional illusion of landscape. Burrowes also traveled extensively along the Rideau system and had unusual opportunities to observe and record details of the project at various places and times.
The picture below shows the house of Captain Cole of the Royal Engineers at the Isthmus, where Cole was in charge of work along the most difficult stretch of waterway in the system. Here, disease and the hardship of digging a channel through solid rock decimated the work force. Land was cleared around Cole's cabin to increase the circulation of health-giving air and a hospital was built nearby.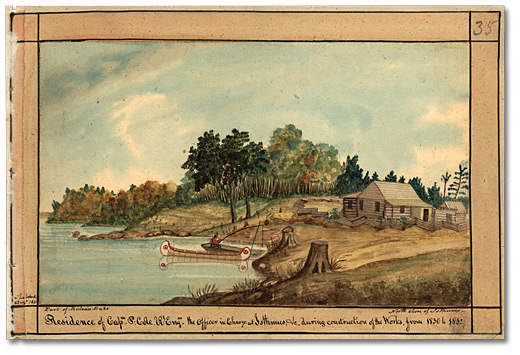 Click to see a larger image (318K)
Residence of Cap.tn P. Cole, R. Eng. Rs the Officer in charge at Isthmus,
&c. during construction of the Works, from 1830 to 1832, 1830
Watercolour
Thomas Burrowes fonds
Reference Code: C 1-0-0-0-35
Archives of Ontario, I0002154