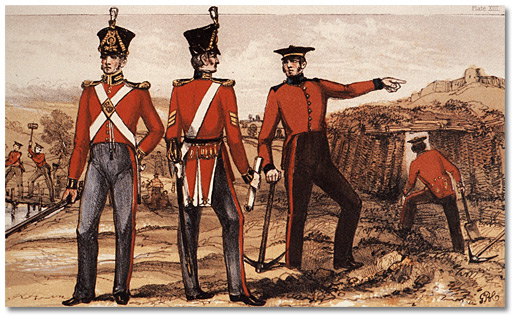 Click to see a larger image (379K)
Royal Sappers & Miners, Uniforms and Working Dress, 1825
George B. Campion, Drawing Master
Coloured lithograph
9.5 cm x 25.4 cm (5¾" x 10")

Thomas Burrowes was born in the town of Worcester, England, in 1796. As a 17-year-old – perhaps attracted by the opportunity to learn a trade at a new military school at Chatham, Kent – he enlisted in the Royal Sappers and Miners. He thereafter embarked on a course of formal study, with specially prepared textbooks and practical exercises in field defence, bridge-building, siege works and demolition. He learned how to construct batteries and pontoons, as well as mastering practical geometry and the drawing of plans. Surveying was not part of the regular course at that time: that was something Burrowes learned later, from a civilian colleague in Canada.