During the cold season of 1827-28, Burrowes was detailed to survey the route from the Ottawa River to Black Rapids, a few miles upstream on the Rideau. In summer, the wilderness was virtually impassible; in winter, however, when the leaves fell and the swamps froze, survey parties could move with relative ease in the bitter cold. John MacTaggart, Chief Clerk of the Works, wrote of the difficulty of surveying in dense forests, where "you have to grope about like blind men."
In fact, the surveyors in Canada had already developed techniques to deal with conditions in the Canadian forests – for example, sounding a horn, lighting a candle in the dark or setting fire to a tree to establish sight lines.
This 1830 map, drawn by Thomas Burrowes, shows the lower part of the Rideau River at its confluence with the Ottawa River. From 1826 to 1829, Burrowes devoted much of his time to surveying this stretch of the waterway.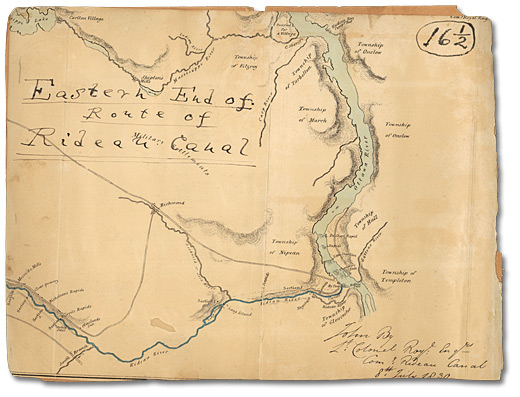 Click to see a larger image (276K)
Map of Eastern End of Rideau Canal, 1830
Watercolour
Thomas Burrowes fonds
Reference Code: C 1-0-0-0-115
Archives of Ontario, I0002234