Treaty making to permit settlement of Aboriginal lands by Euro-Canadians has a long history in what is now Ontario. In 1763, a Royal Proclamation defined protocols by which the British Crown could negotiate treaty agreements with Aboriginal Nations. Between 1763 and 1905, several agreements were negotiated for lands located increasingly north and west of what is now southern Ontario. These treaties reflected the general progression of Euro-Canadian settlement and development.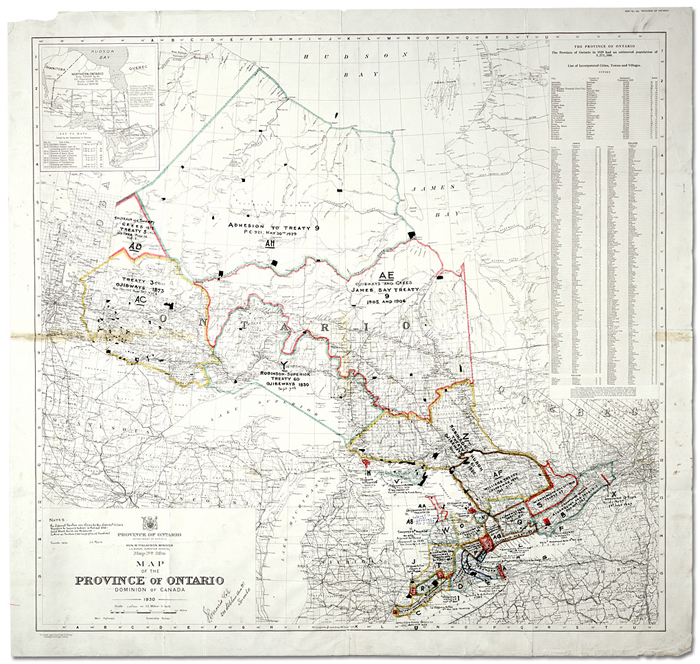 Click to see a larger image (432K)
[Map showing Indian treaties in Ontario] James L. Morris, [base] Map of the province of
Ontario: Dominion of Canada. Map No. 20a. Ontario: Department of Surveys, 1931
J. L. Morris fonds
Reference Code: F 1060-1-0-51, Folder 1, map 14, 13356 (63/5)
Archives of Ontario, I0022329
This map above shows the main treaty areas in Ontario. Before 1905, three main treaties were negotiated with Aboriginal Nations north of Lakes Huron and Superior (the Robinson Treaties of 1850), and west of Lake Superior to the Lake of the Woods (Treaty 3, in 1873).
After Confederation, a series of 'numbered' treaties came to feature standard sets of provisions. In exchange for lands, Aboriginal signatories received monetary compensation (a one time gratuity followed by perpetual annuities), reserve lands, and recognized hunting and fishing rights.
As the ninth Treaty in this series, the James Bay Treaty got its name from the fact that its original territory was defined by river systems draining into James Bay, up to and including the Albany River - at the time the northern boundary of Ontario.
The original Treaty No. 9 document. Some Aboriginal leaders signed by touching a pen as an 'X' mark was inscribed next to their names, while others signed in syllabic writing.
Treaty No.9 was made over two summers in 1905-1906. Three Commissioners represented the Crown: Duncan Campbell Scott, Samuel Stewart, and Daniel G. MacMartin. The Treaty No.9 Expedition also included two police constables and a doctor.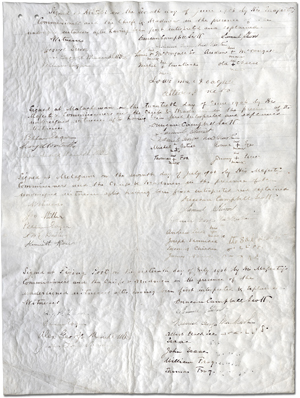 Click to see a larger image (1.0MB)
James Bay Treaty (Treaty No. 9) [page 5]
Reference Code: RG 1-653
(Articles of James Bay Treaty (Treaty No. 9))
Archives of Ontario
Between 1905 and 1906, the Commission travelled through the Treaty No.9 territory, explaining the Treaty to Aboriginal leaders assembled at fourteen Hudson's Bay Company posts. The Company outfitted the Commission with canoes and supplies, and provided experienced guides, many of whom were Aboriginal voyageurs who worked fur brigades along particular river systems.

The photograph below shows the Treaty No.9 Commission at Fort Albany near James Bay in 1905.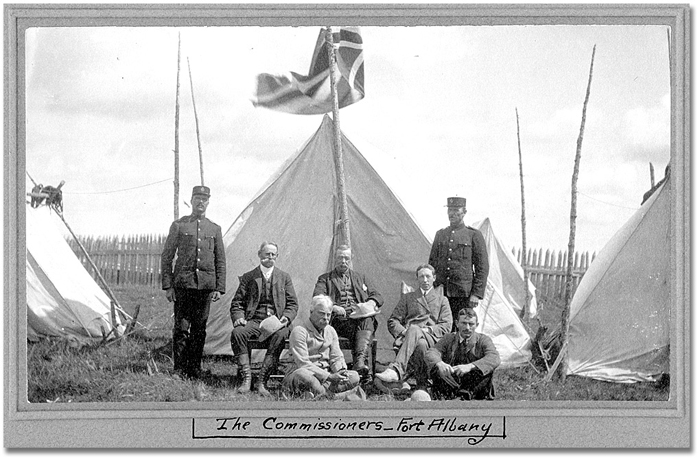 Click to see a larger image (248K)
The James Bay Treaty signing party at Fort Albany.
Standing: Joseph L. Vanasse (L), James Parkinson (R) of NWMP.
Seated: Commissioners Samuel Stewart (L), Daniel George MacMartin, Duncan Campbell Scott (R)
Foreground: HBC Chief Trader Thomas, August 3, 1905
Photographer unknown
Duncan Campbell Scott fonds
Black and white print
Reference Code: C 275-2-0-1 (S 7546)
Archives of Ontario, I0010627
At the time, Ojibway and Cree societies were steeped in oral tradition. As few Aboriginal leaders spoke fluent English, the Commissioners relied on fur trade post employees fluent in Ojibway and Cree to interpret the purpose and terms of Treaty No.9.

The Treaty No.9 expedition on the Abitibi River. Experienced Aboriginal canoe men were at times required to guide the expedition through challenging rapids.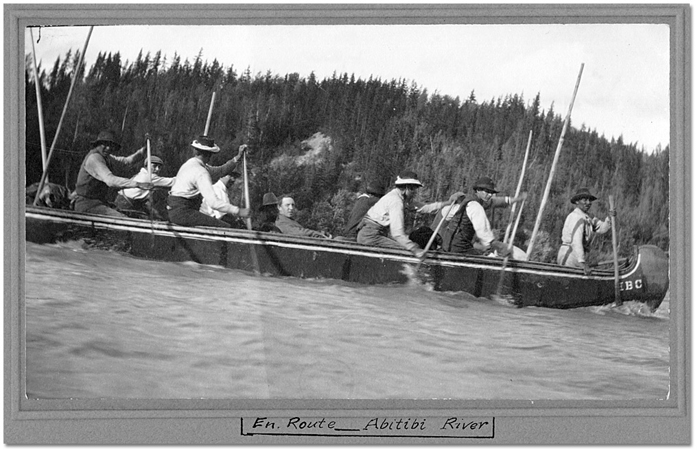 En-Route -- Abitibi River, [ca. 1905]
Photographer unknown
Duncan Campbell Scott fonds.
Format: Black and white print
Reference Code: C 275-2-0-2 (S 7569)
>Archives of Ontario, I0010557