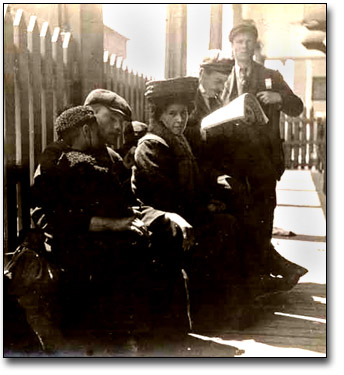 (an Ontario perspective)
In the 1780s, well before the existence of the emigrant (See note 1) office, the British Army played a role in assisting Loyalist refugees from the United States. In the nineteenth century, the Military Settling Department at Quebec, under British orders, assisted new immigrants until it was disbanded in 1822. Assistance was also given under the authority of the Lieutenant-Governor of Upper Canada (Ontario), and, after the Office of the Commissioner of Crown Lands was established in 1827, crown land agents helped new immigrants as one aspect of their work. As specialized emigration agents were appointed, they took over these responsibilities.
From 1828, the emigrant agent at Quebec, Alexander Carlisle Buchanan Sr., acted on behalf of Upper Canada in that port. Sir John Colborne, Lieutenant-Governor of Upper Canada, was convinced, however, that Buchanan could not single-handedly provide sufficient services for Upper Canada from his office in distant Quebec. He gave his instructions for the reception of immigrants within Upper Canada to the Commissioner of Crown Lands. During the heavy immigration of 1831 and 1832, the needs of immigrants took up much of the attention of crown land agents.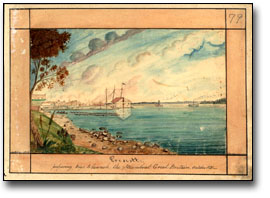 Launching the steamboat Great Britain,
in Prescott, 1830
Thomas Burrowes
Watercolour
Reference Code : C 1-0-0-0-79
Archives of Ontario, I0002198
The first emigrant office in Upper Canada was opened in 1833 in Toronto, headed by A. B. Hawke. Hawke reported to Colborne's Civil Secretary and, as Chief Agent, had the authority to appoint and instruct agents under him.
It is not totally clear which communities other than Toronto, Kingston, and Hamilton had proper "offices" as such, but Hawke received reports from agents in Ottawa, Port Hope, Peterborough, Cobourg, Prescott, and other locations at various times.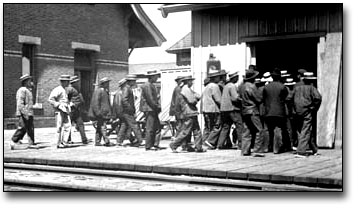 Chinese immigrants entering Canada at the Sarnia tunnel, [189?]
John Boyd
Black and white print
Reference Code: C 7-3-462
Archives of Ontario, I0003267
At first, the connections between the Emigrant Office and the Office of the Commissioner of Crown Lands were fairly close, as indicated by financial and other records. In later times, the two offices seem to have been less closely associated, though the Crown Lands Department continued to play a limited role in the promotion of immigration for many years.
In 1838, Governor General Lord Sydenham placed another A.C. Buchanan (the nephew of the first) above Hawke in the chain of command, thus uniting the agents for Lower and Upper Canada under his control.
While such a structure was theoretically in place, Hawke in fact continued to report almost exclusively to the Lieutenant-Governor's Civil Secretary for the next few years. It appears that the agents for Lower and Upper Canada still operated rather independently.
After the union of Upper and Lower Canada into the province of Canada in 1841, a single immigrant agency was created, and Buchanan at last presided over Hawke and the other agents of Canada West in practice as well as theory. Hawke reported to and took orders from Buchanan (though he also continued to report to the Civil Secretary and later the Provincial Secretary until the early 1850s). As Buchanan was based in Canada East, Hawke still maintained a leadership role among Canada West agents. Accounts for all agents were submitted to Buchanan and paid by the provincial government. The Quebec office was made the official headquarters for the agency in 1842.
Until the mid-nineteenth century, the imperial government played a major role in matters relating to immigration. The province of Canada gained substantial autonomy in establishing its own immigration policy from about 1848, but the imperial ties persisted. Buchanan's annual report was sent to the Colonial Office in London until 1854. In that year, the British government made its last grant to supplement the province's spending on immigrants.
In 1852 or 1853, the Emigrant Office (also referred to as the "Emigration Office" (See note 2)) was placed under the Bureau of Agriculture, but during this decade, the bureau relied on Buchanan to administer the agency to a large degree. Hawke continued to take orders from and report to Buchanan, though he also consulted occasionally with the Minister of Agriculture on matters such as approval of staff appointments and budgets.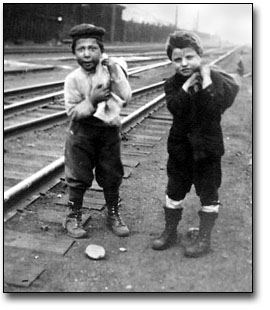 Boys picking coal from railway tracks, [1914]
John Boyd
Black and white print
Reference Code: C 7-2-0-5-62
Archives of Ontairo, I0003835
The Bureau of Agriculture became a full-fledged department in 1862, and the Emigration Office was now better integrated as part of the Department of Agriculture and Statistics. Hawke's letterbooks show, however, that Buchanan was still influential in the running of day-to-day operations. Hawke and his successor, J.A. Donaldson, still continued to report to Buchanan as well as to the Minister of Agriculture
With the passage of the British North America Act of 1867, the provinces of Canada, New Brunswick, and Nova Scotia were united to form the Dominion of Canada. Under this Act, the federal and provincial governments shared responsibility for immigration. At both levels of government, the agencies responsible for immigration were placed under the respective departments of agriculture. Ontario's Immigration Branch was established as part of the Department of the Commissioner of Agriculture and Public Works in 1869.
In 1874 a new Department of Immigration under a Commissioner of Immigration replaced the Immigration Branch. This department was responsible for promoting emigration to Ontario from offices established in Europe, as well as aiding newly-arrived immigrants. The last report submitted by the Department of Immigration to the Legislative Assembly was for the year 1899. By 1900, the department had been replaced by the Bureau of Colonization (part of the Department of Crown Lands).
The primary function of the Emigrant Office was to assist newly-arrived immigrants by providing provisions and temporary shelter, and by helping them to find medical care, employment, and transportation to their final destination. Most of those served by the agency were poor or in need of special protection (e.g. widows and orphans). In addition, emigrant agents initiated work projects for immigrants to enable them to earn some income after their arrival. Agents were also responsible for recording statistical information on immigration patterns and local living conditions, including job availability, cost of living, country of origin, age, occupation, arrival, and final destination. There was particular concern about the large percentage of immigrants who continued on to the United States.
A.B (Anthony "Bowden" or "Bewden") Hawke (1793-1867), as Chief Emigrant Agent for Upper Canada / Canada West, was instrumental in the establishment of services to assist new immigrants arriving in the province. Later, he also helped to lay the groundwork for the establishment of a Canadian emigration office in Britain.
Born in Gwennap, Cornwall (England) in 1793, Hawke came to Upper Canada some time after marrying his wife, Eliza Cundy, in 1815. The couple subsequently had two sons and three daughters. Hawke served for a time as a justice of the peace in the Midland and Home Districts, and was a Tory by political persuasion.
Hawke's appointment as an emigrant agent for Upper Canada began in 1832 at Lachine and Montreal. In March 1833, Lieutenant-Governor Colborne directed him to open and superintend the newly-established emigrant office at Toronto. Hawke, in later years, claimed that his appointment as Chief Emigrant Agent for Upper Canada dated from January 1, 1833.
Hawke and the agents under his supervision were responsible for the enormous task of assisting poor immigrants in finding employment, shelter, provisions and transportation to their final destination. Throughout his career, Hawke sought to meet the needs of immigrants, while keeping within the modest budget provided to him by the government. Of particular note is his role in co-ordinating efforts to provide medical assistance to Irish and other immigrants during the typhus epidemic of 1847. He also streamlined operations and created routines and procedures to render services more efficient. Hawke provided valuable advice based on first-hand experience to high-ranking officials such as the Lieutenant-Governor and Governor General.
From 1859-1860, Hawke was posted in England to act as a Canadian agent for the promotion of emigration to Canada. This was a significant step, for this function had been under strict imperial control in earlier years. He was able to assess the situation with an experienced eye, and his recommendation that Canada establish a permanent agency in Britain influenced the decision that one should be established.
Returning to Toronto, Hawke continued at his old post until ill health forced his retirement in 1864. He died in Whitby on August 11, 1867.
Books and articles
Bishop, Olga. Publications of the Province of Upper Canada and of Great Britain Relating to Upper Canada 1791-1840. Toronto: Ministry of Citizenship, Recreation and Culture, 1984.

Bishop, Olga. Publications of the Government of Ontario 1867-1900. Toronto: Ministry of Government Services, 1976.

Bishop, Olga. Publications of the Government of the Province of Canada 1841-1867. Ottawa: National Library of Canada, 1963.

Cameron, Wendy. "Canadian Immigration Records Come Home." to be published in Friends of the Archives of Ontario Newsletter, 2001.

Cameron, Wendy. "Robinson, Peter", Dictionary of Canadian Biography Vol. VII 1836-1850, eds. Frances G. Halpenny and Jean Hamelin. Toronto: University of Toronto Press, 1988.

Cameron, Wendy, and Mary McDougall Maude. Assisting Emigration to Upper Canada The Petworth Project 1832-1837. Montreal: McGill-Queen's University Press, 2000.

Cowan, Helen I. British Emigration to British North America: the First Hundred Years. Toronto: University of Toronto Press, 1961.

Hodgetts, J.E. Pioneer Public Service: An Administrative History of the United Canadas, 1841-1867. Toronto: University of Toronto Press, 1955.

Parr, Joy. Labouring Children. Montreal: McGill-Queen's University Press, 1980.

Public Archives of Canada. [Calendar of state papers, addressed by the lieutenant-governors or officers administering the government of the province of Upper Canada to the secretary of state for the colonies, from 1792 until 1836]. Ottawa: Public Archives of Canada, 1892-1902. 2 vols.

Turner, Wesley B. "Buchanan, Alexander Carlisle", Dictionary of Canadian Biography Vol. VIII 1851-1860, eds. Frances G. Halpenny and Jean Hamelin. Toronto: University of Toronto Press, 1985.

Turner, Wesley B. "Hawke, Anthony Bewden", Dictionary of Canadian Biography Vol.IX 1861-1870. eds. George W. Brown et al. Toronto: University of Toronto Press, 1976.
Archival and Other Sources
Archives of Ontario. Archival Description Database (various entries), 2000.

Archives of Ontario. RG 1-6-2 (formerly RG 1-A-1-4) Commissioner's Letterbooks.

Archives of Ontario. RG 11 Ontario Immigration Records, series A to U.

Canada [province]. Journals of the Legislative Assembly, 1842.

Canada [province]. Journals of the Legislative Assembly, 1847.

FamilySearch. International Genealogical Index, version 4.01, entry "Anthony Bowden Hawke".

Library and Archives Canada. RG 1-E-15-B Public Accounts of Upper Canada.

Upper Canada. Journals of the Legislative Assembly, Report of Select Committee on Petition of Edward Kennedy. Appendix No. 110, 1836.

Public Records Office. Colonial Office. Original Correspondence, Canada, CO 42/411.
The terms "emigrant" and "emigration" rather than "immigrant" and "immigration" were used until around the time of Confederation (1867), reflecting the influence of the imperial government.

The usage "Emigration Office" appears at least as early as 1847 and becomes increasingly common in the 1850s.