This is a brief results list of descriptions of files and items that matched your search criteria.
Files and items include records in all media including paper files and volumes, photographs, maps, architectural drawings, documentary art, sound recordings, and moving images such as video and films.
The information provided in the brief results list may include reference codes, the title of the file or item, a physical description (e.g. 1 file of textual records, 1 architectural drawing), the date the file/item was created, and ordering information.
Click on a title for a full description of the file or item, including information about possible restrictions on access and ordering information.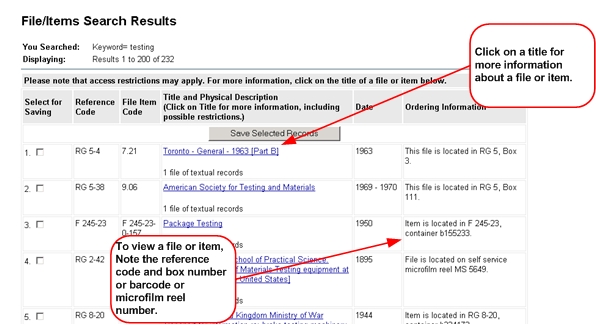 For information on ordering archival records, please see Requesting and Viewing Archival Records.
You may also save file and item descriptions from this page. Saved descriptions can then be sent to an email account or saved as a file on your computer. For detailed information on how to save search results, see Saving and Emailing Selected Records.