David Chavel was born in Woodstock, Ontario in 1942. He studied material arts at the Ontario College of Art and has applied his metal-working techniques to several areas, including jewellery, collage, sculpture and metal relief panels, such as the diptych displayed here.
Chavel has exhibited in many group shows since 1968 and he has executed several commissions in Toronto. He is currently a member of the Ontario Society of Artists.
These decorative panels are composed of brass, bronze, aluminium, wood, stone and Muntz metal. They function dynamically as a frame to the door they enclose.
Movement begins on the left where the forms seem to boil and thrust upwards, and continues on the right-hand panel in a dispersal of falling shapes.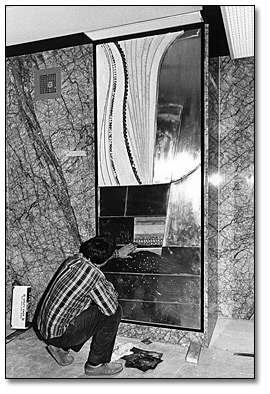 David Chavel installing his piece, Untitled, 1968
Government of Ontario Art Collection
Archives of Ontario
Untitled, [ca. 1966-68]
David Chavel
brass, bronze, aluminum, wood, stone, Montz metal (2 panels)
Government of Ontario Art Collection, 619771