Don Wallace was born in Oil Springs, Ontario in 1921. He studied at both the Hammersmith School of Art and the Royal College of Art in London, England and later attended the Cranbrook Academy of Art in the United States.
From 1942 to 1946, Wallace served with the R.C.A.F. His work has been exhibited in Canada, the U.S.A. and in Europe, at the Triennal Milan, the Brussels Exposition and in Vicenza, Italy.
Wallace has used a combination of metal, sand-casting and anodized aluminium in the panel exhibited here.
The mural, a stylized landscape, might suggest a view of the sun rising through a desert storm or, perhaps, the formation of the Earth's moon, long ago.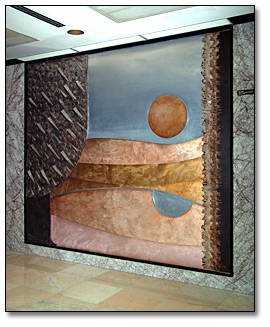 Untitled, [ca. 1966-68]
Don Wallace
metal and anodized aluminium
Government of Ontario Art Collection, 619757