Jack Bush was born in Toronto in 1909 and died there in 1977. He studied in Montreal and in Toronto, at the Ontario College of Art, before becoming a commercial artist.
While the artist's style is unique, his use of hard-edged abstraction and brilliant colourization, evident in this acrylic polymer on canvas, reflects the influence of Picasso, Matisse, Borduas and of the American art critic Clement Greenberg.
Bush was a member of Painters Eleven, the Ontario Society of Artists (Vice-Pres., 1943), the Royal Canadian Academy of Arts, the Canadian Group of Painters and the Art Director's Club of Toronto. He was one of two Canadian Painters represented in the Biennial at Sao Paulo, Brazil in 1967.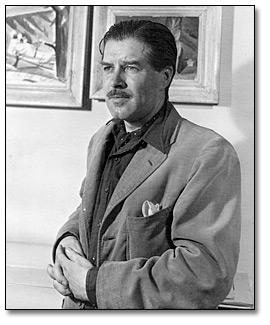 Click to see a larger image (313K)


Artist Jack Bush standing with paintings (detail), 1946
Gilbert A. Milne
Black and white print
Reference Code: C 3-1-0-0-92
Archives of Ontario, I0004519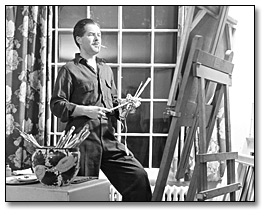 Click to see a larger image (348K)
Artist Jack Bush painting
at an easel (detail), 1946
Gilbert A. Milne
Black and white print
Item Reference Code: C 3-1-0-0-93
Archives of Ontario, I0004520
Bush once explained, "I'm inclined to think that we owe it to the public to give them some kind of lead. The difficulty is, in abstract art, the almost impossible task of convincing viewers that all they have to do is look with an open mind and let the artwork work on them. They may like or dislike, but they can't help responding one way or the other... My work is solely about colour and colour juxtaposition."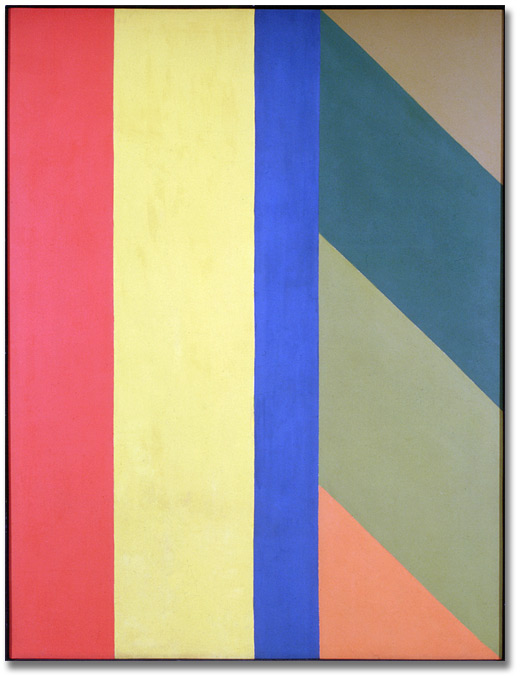 Untitled, 1967
Jack Bush, O.S.A., A.R.C.A., C.S.P.W.C. (1909-1977)
acrylic polymer on canvas
Government of Ontario Art Collection, 619775